Local Balloon Rides
TO PURCHASE A BALLOON RIDE DURING THE FESTIVAL AND EXPERIENCE THE THRILL OF FLYING AMONGST A MYRIAD OF UP TO 100 OTHER BALLOONS, CALL 1-800-HOT-AIR-9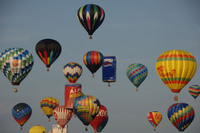 Local Balloon Rides Can't get to the festival and want to take a balloon ride?
Came to the festival and fell in love with balloons? Want to fly again?
Here are some balloon pilots who offer rides in the areas surrounding
the Quick Chek New Jersey Festival of Ballooning year round.