JULY 23-25, 2021
Solberg Airport - Readington, NJ
973 882 5464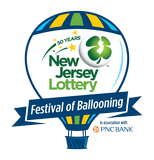 Countdown to Festival Fun

Until the 2020
Quick Chek New Jersey
Festival of Ballooning!
Introducing Busby, the Queen's Guard! In celebration of the royal wedding this May, we are bringing a piece of English royalty to NJ as Busby takes to the skies this July!

Before all eyes will be on the skies over Central New Jersey, they'll be on Jolly Old England for the royal wedding of Prince Harry to Meghan Markle at Windsor Castle on May 19.

While we don't know if they'll be honeymooning here in Readington, royal wedding fever will continue in the United States as the Festival salutes the prince and his American princess by presenting Busby the Queen's Guard, an 85-foot-tall special shaped hot air balloon direct from Lighter Than Air ballooning in Bristol, England.

Since the reign of King Charles II, the Queen's Guard (King's Guard when the reigning monarch is male) has been responsible for guarding the Sovereign's palaces. Despite the perception that they are ceremonial, the Queen's Guards are fully operational soldiers. While The Foot Guards are also fully operational soldiers, part of their duty is to guard The Queen and her residences.

Busby is the English name for the fur military head-dress made worn by the Queens guard.
Click below to book your ticket to see Busby, and all of our other balloons this summer!