JULY 23-25, 2021
Solberg Airport - Readington, NJ
973 882 5464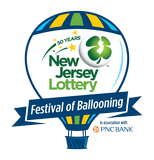 Countdown to Festival Fun

Until the 2020
Quick Chek New Jersey
Festival of Ballooning!
Elvis was larger than life and so is the 10-story-tall special shaped Elvis hot air balloon that will swivel, shake and soar at the Festival.

This Elvis stands 105 feet tall (the real Elvis was 5'11¾") and weighs 485 pounds. Complete with long sideburns, 40-foot-wide sunglasses and a sparkling white jump-suit, the Elvis balloon doesn't hail from Tupelo or Las Vegas, but rather from São Paulo, Brazil.

The massive balloon occupies 105,000 cubic feet of space when fully inflated.

The Elvis balloon was created as a tribute to the entertainer by hot air balloon pilot Luiz Paulo Assis of AirFly hot air balloons. The balloon was inspired by Luiz's love for the artist and his music. Luiz was exposed to the music by his father when he was very young. Even though they did not speak English, the music still touched them.

The 1968 TV special re-launched Elvis Presley's singing career. This 2018 version will launch hundreds of thousands of smiles.
Click below to book your ticket to see Elvis, and all of our other balloons this summer!
We are always searching the globe for the newest and most exciting special shaped hot air balloons
View all of our 2018 shapes,
HERE
!