JULY 23-25, 2021
Solberg Airport - Readington, NJ
973 882 5464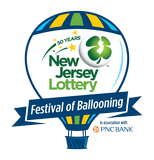 Countdown to Festival Fun

Until the 2020
Quick Chek New Jersey
Festival of Ballooning!
QuickChek Hospitality Tent


HOSPITALITY TENT
It's "Summer Sub Days" and the 4,425-square-foot air conditioned QuickChek store is a popular destination for delicious fresh food and the best cup of coffee in America.
Touch-screen technology allows Festival-goers to create QuickChek's famous custom-made oven toasted subs made with the freshest ingredients; attendees can also choose from an array of grab-and-go items including freshly-prepared salads, wraps and fresh fruit. There's a wall of hot and iced coffees, fountain and Quick Freeze drinks, and frozen yogurt shakes; all to be enjoyed outside seated under an umbrella or on the go as you enjoy the Festival.
The fresh convenience market leader's enormous Hospitality Tent has friendly baristas who can custom make more than 60 varieties of handcrafted hot and iced cold drinks such as refreshing blended-to-order fruit smoothies; fresh-brewed cappuccinos, lattes and espressos brewed with QuickChek's Dark Roast espresso beans; iced and frozen lattes; and decadent frozen chocolate treats. It's a great place to relax in between the balloon ascensions, concerts and attractions.
Fresh. Value. Caring. Speed. All the things you want conveniently located in the middle of the Festival.
The 2019 QuickChek Hospitality Tent Entertainment Schedule is Below!
Friday
4:00pm - 5:30pm
Band: Classic Rock - John Cannavo Duo
Saturday
11:00am - 1:00pm
Band: Acoustic - Chuck Schubert $250
Saturday
1:00pm - 3:30pm
Karaoke w/Dave
Saturday
4:00pm - 5:30pm
Band: Country - Bobby Clark Band
Sunday
11:00am - 1:00pm
Band: Young Performers - Green Planet Band
Sunday
1:00pm - 2:30pm
Band: Summer Music-Davey and the Waverunners
Sunday
4:00pm - 5:30pm
Band: Classic Rock - Oasis
The QuickChek Hospitality Tent has featured:
Gary Philips (Acoustic Summer Music)
Bobby Clark and Chris Condel
Davey and the Waverunners trio