OCTOBER 16-18, 2020
Solberg Airport - Readington, NJ
973 882 5464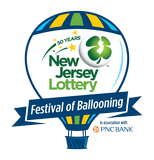 Countdown to Festival Fun

Until the 2020
Quick Chek New Jersey
Festival of Ballooning!
EXPERIENTIAL MARKETING AT ITS HIGHEST
The largest event of its kind. Affluent family demographic. The world's biggest media market. The New Jersey Festival of Ballooning in Association with PNC Bank checks all the boxes.

Sponsorship and experiential marketing continue to outperform traditional advertising and the Festival provides unique opportunities to succeed both above the crowd and on the ground.

The Festival features the awe-inspiring spectacle of twice a day mass ascensions of beautiful hot air balloons, putting all eyes on the sky and sending tens of thousands of cell phones and digital cameras in action to capture the spectacular imagery --- and your brand's messaging.

And the Festival's popularity continues to soar among consumers, marketers and the media. It has enjoyed record attendance, attracts upwards of 165,000 people each year, and its aggressive public relations and social media campaigns have generated more than 1 billion media impressions worldwide.

Coverage, which includes the New York and national media including the morning news shows, is highlighted by the Festival's own Media Day on Friday, July 24.

"We work with many leading consumer brands on how to create and implement their experiential marketing components," said Festival Executive Producer Howard Freeman of The Festival Group. "We provide many creative avenues to reach your target audience. The Festival presents numerous exciting opportunities to fully engage and entertain people that rise above all others in making a lasting impression." Some reports tell us that within a few years, experiential marketing will outweigh price among millennials as a purchase driver. And given the 7 ½ hour average dwell time at the Festival we are uniquely qualified to deliver an excellent ROI!

Marketing campaigns can also be built and implemented for an extended time leading into the Festival, including corporate affairs and community relations programs.

The magic of ballooning is real. There's no doubt that people are mesmerized by balloons in the sky. When the balloons are on the ground, kids want to take a selfie with one, which they then share with more people. It's another example of how the Festival stays relevant for today's social media-driven marketers and millennial audiences.

VIP experiences abound, from hot air balloon rides and corporate hospitality tents along the Balloon Launch Field, to reserved seating with exclusive food and beverage options for the Festival's daily concert series.

The Festival's crowded midway offers tremendous opportunities for showcasing new products and for product sampling.

"We're more than a lot of hot air," said Freeman. "The Festival is a very effective and cost efficient tool when compared to money spent on other forms of marketing."

Location, Location, Location

While the Festival has grown into one of the Top 100 Events in all of North America, its location halfway between New York City and Philadelphia further attracts major media coverage in the #1 and #4 DMAs in the country. This enables companies to reach their target audiences in the most saturated media markets through just one vehicle.

With today's media being all about imagery, there may be none better than a beautiful hot air balloon in the sky.

Click

HERE

to learn more about our experiential marketing opportunities along with all other partnership possibilities!