JULY 23-25, 2021
Solberg Airport - Readington, NJ
973 882 5464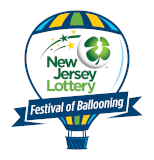 Countdown to Festival Fun

Until the 2020
Quick Chek New Jersey
Festival of Ballooning!
The New Jersey Lottery Festival of Ballooning

Participating Pilots for 2021

If you are a pilot and want to fly at this year's festival, please email Kristin Vincent at

[email protected] and request an application.

To see our 2019 Participating Pilots, click here.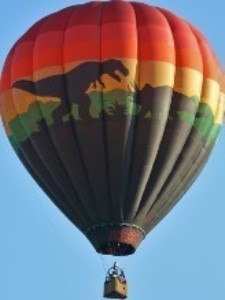 Jurassic Journey - Tracy Leaver
Balloon Name: Jurassic Journey
Pilot: Tracy Leaver
Hometown: Pittstown, NJ
1. What is your full-time job?
Director Woodlands Wildlife Refuge, a wildlife rehabilitation facility for orphaned and injured wild animals.
2. Where/when was your first balloon ride as a passenger, and how did that influence your decision to become a pilot?
My first flight as crew was in Hunterdon County, NJ. 1980's. Love at first flight and never looked back.
3. Favorite part about being a balloon pilot?
Sharing the experience with others. And that each flight is a new experience.
4. What are your hobbies other than ballooning?
Playing in the dirt!
5. Where is your favorite place to fly? Why?
Hunterdon County NJ. It is the visual reason why NJ is called the Garden State. It is such a beautiful flying area over streams, fields, rivers, rolling hills and sprawling neighborhoods.
6. What's the name of your balloon and story behind it?
Jurassic Journey. My balloon was custom designed as an homage to the Jurassic Park movie. It has four dinosaurs on a sunset landscape.
7. Where is the most interesting place that you landed or most interesting experience that you had after you landed?
Everywhere I land is interesting!
8. Have you had any unique engagements that happened at the New Jersey Lottery Festival of Ballooning or during private flights?
I had one where the person asking instead on waiting until the very end of the flight, right before landing. He wanted her to enjoy the flight and knew she would be uncontrollable if he asked sooner. It was a little tricky to pull off and thank goodness it was very slow wind. But, he was right! I'm not sure she has calmed down yet. She did say yes!
9. What incentives do you provide in order to wrangle crew during your normal flights?
The experience is #1. Fly them whenever I can. Take care of them when at out of town festivals. Little extra things whenever I can to show appreciation.
10. Do you have any unique traditions pre-and/or post flight?
Nothing unique but everyone does enjoy writing in our Guest Book post flight.
11. How long have you flown at the 38th Annual New Jersey Festival of Ballooning?
Off and on since the beginning but constantly for the past 12-15 years I believe.
| | | |
| --- | --- | --- |
| | Displaying items 1 through 40 of 58 | |