JULY 23-25, 2021
Solberg Airport - Readington, NJ
973 882 5464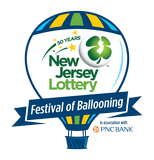 Countdown to Festival Fun

Until the 2020
Quick Chek New Jersey
Festival of Ballooning!
A beloved symbol of both summer and safety, lighthouses are loved especially here on the East Coast. We're proud to announce that this year's signature balloon is the QuickChek Flighthouse, a 115-foot-tall flying lighthouse. This summer themed balloon returns as QuickChek celebrates Summer Sub Days!

"People love and adore lighthouses, it's a universal sign of security and like America, it's always there to protect," said pilot Barry DiLibero, who built the 11-story tall red, white and blue balloon in 2006. "I had always wanted one and people just feel good about them. We're looking forward to providing that warm feeling and experience for everyone at the festival."

Complete with sea gulls near the "light" at the top, this special shaped hot air balloon is a majestic 115 feet tall, 53 feet wide at the bottom and weighs 440 pounds.

Click below to purchase your tickets to see the QuickChek Flighthouse along with all of our other brilliant balloons this summer!

To view all of our 2019 Special Shape Balloons click

HERE

!