JULY 23-25, 2021
Solberg Airport - Readington, NJ
973 882 5464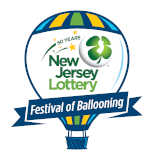 Countdown to Festival Fun

Until the 2020
Quick Chek New Jersey
Festival of Ballooning!
Kermie the Frog has been leaping from festival to festival all over the world and is sure to be a hit here when he makes his first flights here in Readington. This lime green balloon is 98 feet tall, 62 feet wide, and 105,000 cubic feet when fully inflated (that's the equivalent to 105,000 soccer balls!). Kermie holds 3 passengers in addition to pilot Todd Monahan. Come see him brighten the skies this summer!

Click below to purchase your tickets to see Kermie the Frog along with all of our other brilliant balloons this summer!

To view all of our 2019 Special Shape Balloons click

HERE

!