JULY 23-25, 2021
Solberg Airport - Readington, NJ
973 882 5464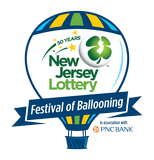 Countdown to Festival Fun

Until the 2020
Quick Chek New Jersey
Festival of Ballooning!
For Michael Loy, it truly was love at first flight.

The Texan got into hot air ballooning rather impulsively – he saw a video of ballooning in Europe and went out and purchased a balloon, even though he had never been around balloons before.

He'll make his debut at the QuickChek New Jersey Festival of Ballooning in Association with PNC Bank in rather impressive fashion with his 100-foot-tall, pink High Kitty special shaped hot air balloon.

High Kitty is based on Maneki-neko, a common Japanese figurine which is believed to bring good luck to the owner. This iconic shaped balloon features High Kitty waving its 20-foot-long left paw as it flies through the air; this beckoning gesture of hand movements resembling those of a cat.

Built in Brazil in 2014, the 105,000-cubic-foot hot air balloon holds two lucky passengers in addition to the pilot.

Modern Japanese folklore suggests that keeping a talisman of good fortune such as the Maneki-neko in bedrooms and places of study will bring about favorable results and life successes.

So if you want to share in some good fortune, come out to see the High Kitty balloon!

Click below to purchase your tickets to see High Kitty along with all of our other brilliant balloons this summer!

To view all of our 2019 Special Shape Balloons click

HERE

!