JULY 23-25, 2021
Solberg Airport - Readington, NJ
973 882 5464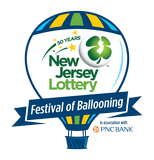 Countdown to Festival Fun

Until the 2020
Quick Chek New Jersey
Festival of Ballooning!
The king of the jungle will be the king of the skies over Central New Jersey when Simba the Lion special shaped hot air balloon returns to this year's Festival celebrating the release of Disney's, the Lion King!

The 85-foot-tall balloon is shaped like a lion's head, complete with a brown mane and a regal red and yellow crown. The 105,000 cubic foot balloon can hold 3 passengers in addition to the pilot.

Simba was built in Belgium in 2010 to create awareness and help stop the poaching of lions.

The balloon is piloted by Jacob Vaillancourt from Quebec. The balloon is owned and operated by Todd Monahan of SunKiss Ballooning of Glen Falls, NY. Todd started flying in 2006 and has flown here at the QuickChek New Jersey Festival of Ballooning in Association with PNC Bank since 2007.

Todd has flown many different special shaped balloons and traditional sport balloons all over the world including Canada, Mexico and New Zealand. His passion for ballooning goes back to when he was 5 years old attending a local festival near his childhood home.

Click below to book your ticket to see Simba and all of our other balloons this summer!

To view all of our 2019 Special Shape Balloons click HERE!