JULY 23-25, 2021
Solberg Airport - Readington, NJ
973 882 5464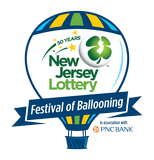 Countdown to Festival Fun

Until the 2020
Quick Chek New Jersey
Festival of Ballooning!
The Three Little Bees: Joey, Lilly, and Joelly!

Interest in the 35th annual Festival is already high and there's sure to be a lot of buzz as we proudly announce that "the Little Bees" will once again be flying at the Festival. Designed in 2003, the Little Bees have wowed festival-goers here in Readington as well as around the world as they've graced the skies over Australia, New Zealand, Japan and Canada.

Joey and Lilly are two almost identical special shaped hot air balloons that have become the world's favorite flying tandem --- the first balloons that hold hands and "kiss" in mid-flight! These 110-foot-tall adorable bumblebees will be joined by their baby, Joelly, as the whole family takes to the skies over the scenic Hunterdon County countryside. Kissing and hugging during flight are the signature poses that will once again thrill the crowds here at Solberg Airport.

Make your plans for this year's Festival.

Come and experience love at first flight!

Learn more about them on their Facebook page, HERE!