JULY 23-25, 2021
Solberg Airport - Readington, NJ
973 882 5464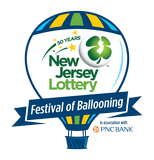 Countdown to Festival Fun

Until the 2020
Quick Chek New Jersey
Festival of Ballooning!
Keystone Willy and Con Air
Like hot air ballooning, the Keystone Cops have been entertaining people for a very long time. More than 100 years after the fictional, humorously incompetent policemen made their debut in silent movies, they'll make their debuts here at the Festival.

Keystone Willy is an 86-foot-tall old time law enforcement officer complete with a 46-foot-long flowing white handlebar mustache and an oversized helmet down over his eyes. Look for him to take to the skies in pursuit of the 84-foot-tall Con Air balloon.

They are the inspiration of hot air balloon pilot Wil Lapointe, a Shriner whose unit is called the Keystone Cops.

Lapointe's journey into ballooning is just as whimsical: he bought his first hot air balloon 30 years ago as an advertising gimmick. Without ever having flown in one.

"My first ride in a balloon was when the balloon I bought was first delivered," said Lapointe, who would later leave his cellular business to concentrate on ballooning full-time. "I saw ballooning as the perfect vehicle to promote my business. I noticed how it attracted a crowd, we had a line of cars following us during the flight. Between that and the actual flight, I was hooked."

Lapointe went on to earn his pilot's license and became one of the top competitive hot air balloon pilots in the country. He divides his time between Oklahoma and California but this summer he'll be entertaining us here in Readington.

Click below to purchase your tickets to see Keystone Willy and Con Air along with all of our other brilliant balloons this summer!

To view all of our 2019 Special Shape Balloons click

HERE

!