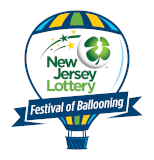 Countdown to Festival Fun

Until the 2020
Quick Chek New Jersey
Festival of Ballooning!
"We are thrilled to announce that New Jersey Skylands Insurance Companies has extended its sponsorship of the Quick Chek New Jersey Festival of Ballooning for the next three years," said Festival Executive Producer Howard Freeman. "Their sponsorship will allow us to pursue the best bands and contemporary artists to kickoff our legendary live concert series as we continue to bring top-flight entertainment to the Festival."

This year's concert lineup will be announced in the Spring.

"We're proud to continue our association with a high-quality, family-oriented event in the Quick Chek New Jersey Festival of Ballooning," said John Tiene, Vice President of New Jersey Skylands Insurance Companies, whose company sponsored the Free Express Shuttle Bus service between Raritan Valley Community College and Solberg Airport last year.

In addition to presenting the concert on July 25, New Jersey Skylands Insurance will also have a major presence at the Festival. Their company pavilion will offer attendees a place to rest and recharge. They will also distribute a unique promotional item to concert-goers on Friday night.

New Jersey Skylands Insurance Companies is a leading provider of automobile and homeowners insurance and was the first insurer in the state to provide Identity Theft Resolution Services. Their dedicated insurance professionals are highly regarded for providing outstanding customer service and the company's fleet of Skylands Response Vehicles is equipped with the latest technology to reduce paperwork and provide quicker claim service. And it shows – customers who had claims last year gave New Jersey Skylands a 97% customer claim satisfaction rating!

The Festival also has a personal attachment for John Tiene. His great, great, great grandfather, Dr. John Sheldon, was the first Englishman to make an ascent in a hot air balloon in 1784. His flight was also noteworthy because it marked one of the first scandals in aviation history. It seems the balloon pilot threw Dr. Sheldon's scientific instruments overboard to make the balloon climb more quickly.

Even then traveling with luggage was an adventure.

###

|

Back to index...