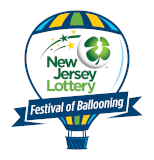 Countdown to Festival Fun

Until the 2020
Quick Chek New Jersey
Festival of Ballooning!
Anyone who has been around the Festival knows producer Howard Freeman will do just about anything to make a kid happy. So once again we've created a "mini-tour" where we bring one of the colorful hot air balloons from the Festival to different parts of the region to give children a sneak peek at the Festival and provide them with an unforgettable, once-in-a-lifetime opportunity to get up-close and personal and experience the Magic of a hot air balloon.

With PNC Bank, we bring one of our older balloons to entertain and educate pre-school children as part of PNC's "Grow Up Great" head start program. The no-longer-flyable balloon is laid on its side and filled with cold air. Children of all ages then have the opportunity to explore and play inside the giant balloon while learning about the history and the science of ballooning. This year the program is tentatively scheduled to visit early learning centers in Englewood and Hightstown.

To celebrate Flag Day in June, we honor America by inflating the world's largest free flying American flag – the PNC American Flag Balloon. Past inflations have taken place at Steven's Tech in Hoboken, near the Lincoln Tunnel in Weehawken, and at Overpeck Park in Leonia as we look to bring the Festival and the community together. Since this is an election year, we will once again work with the League of Women Voters and PNC to utilize the giant flag to invite people to get out and vote.

The Grand Prize winner of the annual statewide PNC American Patriot Essay contest receives a visit from a gigantic 75-foot-tall balloon at their school every June, giving the winner and his, or her school a small taste of the magic of ballooning.

Our balloons have also wowed children attending summer camps throughout the state, including Newark, Trenton and Jersey City. Last year we did a tether in center field of Campbell's Field, home of the Camden Riversharks minor league baseball team and the Camden Riversharks' Hit Doctor Baseball Camp, along the Philadelphia waterfront!

We've also brought temporary relief but lasting memories to children at various hospitals in our area, in conjunction with our main beneficiary, Children's Miracle Network.

So be on the lookout to see if our traveling balloon show is coming to your town this summer!

|

Back to index...