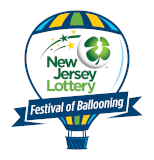 Countdown to Festival Fun

Until the 2020
Quick Chek New Jersey
Festival of Ballooning!
Someone's school playground is about to get a lot more fun.

PNC

Bank and the Quick Chek New Jersey Festival of Ballooning are inviting New Jersey students in grades 2 through 12 to take part in the 5th annual PNC Bank American Patriot Essay Contest by writing a short essay on the topic, "What the American Flag Means to Me."

The Grand Prize: a visit to the winner's school by a gigantic, 75-foot-tall hot air balloon.

"Each year our students write moving and heartwarming essays about what it's like to live in this country and what the American flag means to them," said Joseph Whall, Director of Client and Community Relations for PNC Bank. "Our sponsorship of this contest, the American Flag balloon and the Quick Chek New Jersey Festival of Ballooning, allows us to continue our education initiatives in a fun and rewarding way."

"During a presidential election, we tend to think a little more about our freedoms and the opportunities we have as Americans," added Whall. "We're excited to read this year's entries."

"As a symbol of our country, the American flag means different things to each of us, including our school children," said Festival Executive Producer Howard Freeman. "The PNC Bank American Flag balloon is just as familiar as a symbol of our Festival and remains one of our most popular attractions."

The Grand Prize winner will also receive four Blue Sky Club VIP tickets and a hot air balloon ride for two at this year's 26th annual Festival.

The essays should be 100 words or less. They will be judged by a panel of representatives from PNC Bank and the Festival. Second and third-place prizes consisting of free admission tickets to the Festival and Festival souvenirs will also be awarded. Winning essays will be selected based on creativity, poignancy and clarity with consideration given to the grade level of the contestant. Contestants are not required to be U.S. citizens.

Entries should be submitted by May 1 to Essay Judges, Quick Chek New Jersey Festival of Ballooning, 363 Route 46 West, Suite 200, Fairfield, New Jersey, 07004. Students can also enter the contest through the Festival website at http://www.balloonfestival.com/pagebank/index.html?id=435. Entries should include the student's name, address, telephone number, grade, age, school name and the name of their teacher.

More than 700 entries were received last year from school children around the state. Shaina Cohen, a Fair Lawn resident and third-grade student from Yavneh Academy in Paramus, won last year's contest. Previous winners were Elizabeth Bialkin, a fourth-grade student from Tewksbury Elementary School in Tewksbury in 2006;

Allyson

Keegan, a fifth-grade student from South Amboy Elementary School in 2005; and Olesya Solouk, a fifth grader from Lebanon Borough School in Lebanon, in 2004.

So get your child started on their essay today!

|

Back to index...