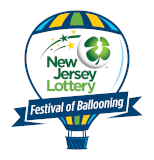 Countdown to Festival Fun

Until the 2020
Quick Chek New Jersey
Festival of Ballooning!
Under the heading "Jobs You Won't Find Anywhere Else," The Quick Chek New Jersey Festival of Ballooning certainly boasts more than a few. One of the more unique functions that has to be filled during the festival is that of balloon ride operator.

The balloon ride operator is responsible for organizing and allocating the hundreds of balloon rides that have been reserved over the five (5) mass ascensions that take place over the festival weekend. This task is currently being undertaken by the local husband-and-wife team of Ron and Sue Critelli of Whitehouse Station.

Ron and Sue have been balloonatics for almost twenty years. Once spectators at the festival, they undertook a more active role by volunteering to serve as crew for the armada of 125 spectacular balloons.

"We've crewed for a number of different balloons, including The Energizer Bunny," offers Ron. "They are truly magnificent to look at, but they sure can be a lot of work." So last year Ron and Sue utilized their "insider's" knowledge of the sport and turned their focus to the ride operator slot.

"If you looked in Webster's Dictionary under 'grace under pressure' or 'highly organized,' I think you'd see a picture of the Critellis," maintains Festival Executive Producer Howard Freeman. "The hour or so prior to a balloon launch is just a beehive of activity. Behind the scenes we are coordinating the pilot and weather briefing, while the ride operators and their staff are busy doling out the rides that were scheduled in advance, while accommodating the last-minute "walk-up" requests for rides. All in preparation for a colorful spectacle of a mass ascension which will delight all the festival-goers."

When it comes to taking a ride, Sue offers an interesting tip. "Schedule a ride during one of the festival's morning ascensions. Morning rides are truly something special, almost spiritual. The sun is just coming up, the fog is burning off, and it's a beautiful way to start the day." She adds "Although the crowds are somewhat lighter, there may be more slots open for rides, and the balloon pilots really seem to enjoy the morning ascensions here in Hunterdon County."

As for a few practical tips, to get the most out of your experience, the first suggestion is to book your balloon ride in advance. (Don't forget to purchase your festival admission tickets while making your balloon ride reservation.) Come the day of your flight, plan on arriving at the Balloon Ride Tent to check in with Ron, Sue and their team about two hours before the flight. Dress comfortably (closed-toed shoes are highly recommended) and don't forget your camera. FYI, your balloon ride will last approximately 30-45 minutes, but the entire experience can take from two to three hours.

With nearly 600 rides sold last year, reservations are recommended and we suggest you book your ride as far in advance as possible (today's good). Balloon rides are $185 per person in the morning and $195 per person in the evening. Click here or call 1-800-HOT-AIR-9 for details and to make your reservation.

"A hot air balloon ride is like a magic carpet ride," said Festival Executive Producer Howard Freeman.

"You float quietly in the sky. It is a unique and unforgettable experience, similar to being on the 8th floor terrace of a high rise building, watching the sights and sounds of the picturesque Hunterdon County countryside move gently beneath you.

And this magical outing starts with Ron and Sue."

Get ready for the ride of a lifetime

|

Back to index...