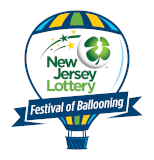 Countdown to Festival Fun

Until the 2020
Quick Chek New Jersey
Festival of Ballooning!
From the Earth to the Moon, we're bringing you 3 jam-packed days and nights of family entertainment.


We have many new attractions this year. While many of you would love to touch the clouds in one of our giant balloons, we're bringing space down to Earth for those who like to keep their feet on the ground. The NASA Exploration Experience from the Marshall Space Flight Center in Huntsville, AL is a traveling exhibit that will teach Festival-goers about NASA's future plans, which include a return to the moon to build a lunar outpost. The Exploration Experience houses several interactive stations that allow visitors to explore the surface of the moon and even touch a moon rock as well as an I-MAX-like theater where you can "virtually" walk on the moon.

How about Flippenout with an extreme trampoline show? Featuring the best athletes in North America including Olympic medalists, Flippenout has performed throughout the world at NBA, NHL and other professional and collegiate sports venues as well as corporate and community events. These explosive shows, emceed to music, feature 25 feet of height, snowboards, skis, triple flips, crazy twists and much more!

Adding to our sports entertainment lineup with an even different twist, the Shockwave 4x4 Professional Monster Truck Racing Team will crush cars and kick up some dirt over the weekend, too.

Back by popular demand is last year's sensational Galaxy of Thrills, the highest aerial act in the world! Galaxy Girl™ (Tina Winn) and husband John will again dazzle Festival-goers with their death-defying aerial thrill shows featuring the Globe of Death, a high speed motorcycle stunt show performed by two riders inside a 16-foot steel sphere; the 35-foot high Galaxy Wheel in which acrobatic routines are performed four stories above the ground without any safety equipment; and the Winns' trademark 127-foot-high sway pole with its trapeze and aerial space platform where Galaxy Girl™ performs acrobatic maneuvers without a safety net.

We like to think we're all about the children so kids are invited to get in on the action by joining The Quick Chek New Jersey Festival of Ballooning's Kid's Club which allows children to get up-close-and-personal with up to 125 hot air balloons! Each member of the Kid's Club will receive one (1) good-any-day children's general admission ticket to the Festival, an exclusive Kid's Club T-shirt, the opportunity to attend a hot air balloon tutorial with an official pilot, an official Kid's Club membership card, an invitation onto the launch field during a balloon ascension (when accompanied by one adult guest), and a "Taste of Quick Chek" festival goody-bag. In addition, five (5) lucky Kid's Club members will be chosen to be honorary Launch Directors (one per ascension) where they will be invited to the pre-launch pilot briefing and will give the official launch directions to the pilots prior to lift-off! All for just $15.00!


And of course there's the serenity of our early morning mass balloon ascensions on Saturday and Sunday, the awe-inspiring spectacle of our sunset launches Friday, Saturday and Sunday night, our fireworks extravaganza Friday night and nighttime balloon glow on Saturday. And our biggest concert lineup ever. This is what we call Balloons, Tunes and Booms.


In between we hope you visit with our arts & crafts vendors, enjoy product samples from our many wonderful sponsors, dine with our food vendors throughout the day, experience hands-on interactive displays like the NBA Jam Van, take the kids on the amusement rides, and visit the Quick Chek Entertainment Tent and the Family Fun Pavilion, to name just a few of our highlights.

Mass balloon ascensions and moon rocks. How's that for reaching new heights!

|

Back to index...