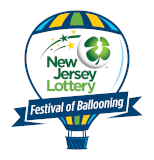 Countdown to Festival Fun

Until the 2020
Quick Chek New Jersey
Festival of Ballooning!
READINGTON, NJ – Halle Feeney, a fourth grade student from Joyce Kilmer Elementary School in Milltown, has been selected as the Grand Prize winner of the fifth annual "PNC Bank American Patriot Essay Contest." A 75-foot-tall hot-air balloon will visit the school Thursday, June 5 where executives from PNC Bank and the Quick Chek New Jersey Festival of Ballooning will present her with her award, which includes a tethered ride in the balloon in front of her classmates.

Feeney will also receive four Blue Sky Club VIP admission tickets and a free ride in a hot air balloon during the 26th annual Festival at Solberg Airport in Readington, July 25-26-27, 2008.

Howard Freeman, Executive Producer of the Festival, will provide students with a lesson on the science of hot air ballooning on Thursday morning.

As part of its community outreach efforts through its association with the Quick Chek New Jersey Festival of Ballooning, the largest summertime hot air balloon and music festival in North America, PNC Bank asked New Jersey students in grades 2-12 to submit an essay on "What the American Flag Means to Me." Feeney's essay was one of the record 1,024 received from school children throughout the state. The winners were chosen by a panel of judges comprised of PNC Bank and Balloon Festival staff.

"Each year our students write moving and heartwarming essays about what it's like to live in this country and what the American flag means to them," said Kevin Tylus, Central New Jersey President for PNC Bank, who noted that the number of student entries has increased significantly in each of the contest's five years. "Our sponsorship of this contest, the American Flag balloon and the Quick Chek New Jersey Festival of Ballooning, allows us to support education in a fun and rewarding way."

"As a symbol of our country, the American flag means different things to each of us, including our school children," said Freeman. "The PNC Bank American Flag balloon is just as familiar as a symbol of our Festival and remains one of our most popular attractions."

Feeney's submission is as follows:

What the American Flag Means to Me

"

Each part of the American Flag has a special meaning to me. The stars on the flag seem to say fifty distinctive things about each state like New Jersey is breath taking, California is fabulous, and Alaska is amazing. The stars are like flashing lights on a Broadway sign that symbolize talent. The colors on the flag show a vibrant country filled with unique people. The stripes represent hope, culture and freedom. The thirteen stripes are the connections that glue the people of America together. Every time I see our flag I am reminded of our extraordinary country."



Second place was awarded to Ankitha Radakrishnan, a sixth grader from Ramapo Ridge Middle School in Mahwah, who will receive a family four-pack of two adults and two children's tickets to the Festival plus Festival merchandise. Jonathan Tosh, a seventh grade student at H.B. Whitehorne Middle School in Verona, was awarded third place and will receive four tickets to the Festival.

Launched in 1983, the Quick Check New Jersey Festival of Ballooning in Association with PNC Bank is the largest summertime hot air balloon and music festival in North America and the premier family entertainment event in the Northeast, attracting upwards of 175,000 people and worldwide media coverage. The Festival features a fireworks extravaganza, a nighttime balloon glow, live musical performances including five major concerts, children's activities and amusement rides, hundreds of arts & crafts and food vendors, and up to 125 hot air balloons.

PNC Bank is a member of The PNC Financial Services Group, Inc. (NYSE: PNC), one of the nation's largest diversified financial services organizations providing consumer and business banking; specialized services for corporations and government entities, including corporate banking, real estate finance and asset-based lending; wealth management; asset management and global fund services.

Tickets for the 26th annual Quick Chek New Jersey Festival of Ballooning are available at all Quick Chek stores, by calling 1-800-HOT-AIR-9, or online at

www.balloonfestival.com

|

Back to index...