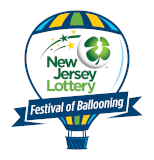 Countdown to Festival Fun

Until the 2020
Quick Chek New Jersey
Festival of Ballooning!
While our biggest concert lineup ever puts more stars on the stage, our biggest stars are still the ones that take to the skies.

Despite your thoughts that we only work 3 days a year, we're busy all year-round looking for new and awe-inspiring balloons to appeal to those balloonatics who come out year-after-year and to those of you who may be coming out for the first time to discover what we call Love at First Flight.

We are thrilled to announce that we have once again been successful in our search and that three of the most spectacular balloons in the world will be at the Festival this year.

Let the flight be with you as Darth Vader takes over the skies when he makes his U.S. debut east of Albuquerque next month. Approved by Lucasfilm, this 3 dimensional hot air balloon shaped like the head of the most famous villain in movie history is 86-feet-tall, 69-feet-wide and 78-feet deep. Lord Vader is coming to the U.S. all the way from Brussels, Belgium. The skies over Readington may be growing darker but we couldn't be happier.

Arky is an 85-foot-tall, 100-foot long representation of Noah's Ark. One of the most complex balloons ever designed, Arky of course contains several animals 2-by-2, 14 pairs of animals in all.

And we're proud to announce the newest addition to the Festival family as Quick Chek unveils its newest signature balloon, the Quick Chek Fresh Farm, which replaces the spectacular Quick Chek Eagle which has permanently landed after 15 years of patriotic service at the Festival. The Quick Chek Fresh Farm is giant red barn complete with a 61-foot-tall silo, a 30-foot-tall farmer, and friendly animals such as a cow, a pig, a cat, and chickens.

These special shaped balloons join Festival favorites including the PNC American Flag balloon, the world's largest free-flying American flag; Lily and Joey, the 110-foot-tall twin bees and the only balloons in the world who hold hands and kiss in mid-flight; the Energizer Bunny, the world's tallest hot air balloon that at 166-feet is taller than the Statue of Liberty; and the ultimate thirst-quencher, the 100-foot-tall Pepsi Super Can.

Our mass hot air balloon ascensions are scheduled for Friday at 6:30 p.m., Saturday at 6:30 a.m. and 6:30 p.m., and Sunday at 6:30 a.m. and 6:30 p.m., wind and weather permitting. We hope to see you along the flight line to take in the magic in ballooning and that you consider those beautiful early morning ascensions when the crowds are lighter and the air is cooler.

|

Back to index...