JULY 23-25, 2021
Solberg Airport - Readington, NJ
973 882 5464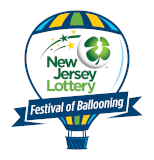 Countdown to Festival Fun

Until the 2020
Quick Chek New Jersey
Festival of Ballooning!
West Caldwell, NJ, (March 9, 2005) -- Award-winning New Jersey artist Vicki Smith of Asbury has been selected as this year's winner of the 23rd Quick Chek New Jersey Festival of Ballooning art contest. Smith, who was among 100 artists who submitted sketches, oil paintings and chalk renditions of the balloon festival, was chosen because of her conceptual design of balloons in flight.

An illustrator and designer of well-known miniature calendars, Smith's work has been sold at the Chicago Museum of Art, The Walker Arts Center, Minneapolis, MN, and the Copper Hewitt Design Museum, New York, NY. Working from her original pencil sketch, the landscape specialist will focus on the spaciousness of the bucolic New Jersey countryside, as she moves toward a final design.

"Vicki grasped the concept and uniqueness of ballooning and of the scope of our festival," said Howard Freeman, executive producer of the 23 year-old New Jersey festival, "her creativity conveys the span of festival activities, while also capturing the magic of ballooning. I am very satisfied with her piece, it's already become one of my favorites in the 23 years of festival posters."

As the official poster, it will adorn 105 Quick Chek Stores, newspaper ads, workplace bulletin boards and basement playrooms all across NJ. The poster will also be a vehicle to raise money for Children's Miracle Network, since a portion of every ticket sold at Quick Check Food Stores benefits both the Specialized Hospital and the Bristol-Myers Squibb Children's Hospital at Robert Wood Johnson University Hospital in New Brunswick, NJ.

Smith holds a BFA from the Parsons School of Design. Her work has received awards from Menu Design 3, Print Magazine, Art Direction Magazine, the Hunterdon Museum of Art, The Mountain Art Show and the St. James Art Festival. She was also featured in a one-woman art exhibit hosted by the Museum of New Hampton.

The Quick Chek New Jersey Festival of Ballooning will be held on July 29, 30, and 31, 2005. The event boasts an air show, live concerts featuring major artists, alligator wresting, fireworks display, balloon glows, quality food concessions, and plenty of family entertainment, in addition to the magic of ballooning. Hot air balloon ascensions with up to 125 sport and special-shape balloons are scheduled for Friday at 6:30 p.m., Saturday and Sunday at 6:30 a.m. and 6:30 p.m., wind and weather permitting.

Advance-sale tickets for Festival admission, costing $17 for adults and $7 for children 54 inches and under, are available through July 28. Children three and under are admitted free. Tickets will be available at all Quick Chek stores in New Jersey beginning in June. Festival and VIP Blue Sky Club tickets can also be obtained by calling toll free 800-HOT-AIR-9 (800-468-2479) or online at www.balloonfestival.com.

Festival hours are from 1 p.m. to 10 p.m. on Friday, 6 a.m. to 10 p.m. on Saturday and 6 a.m. to 8 p.m. on Sunday.

|

Back to index...