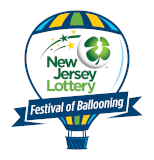 Countdown to Festival Fun

Until the 2020
Quick Chek New Jersey
Festival of Ballooning!
Whether you are a dedicated balloonatic who comes to the Festival every year, whether you've been here in the past but haven't come recently, or (for shame) if you've never been here before, this is the year you need to be at the Festival.

Here are 10 reasons why:

10. Our nation's capital blossoms in the spring, we blossom in July. The Gin Blossoms launch this year's concert series Friday night.

9. Things are definitely looking up: see people flip out on a trampoline, Strange Fruit fuse dance, theater and circus atop 13-foot poles, Galaxy Girl cheats death 3 times a day from 12 stories in the air, explore the moon with NASA, and up to 125 hot air balloons soaring high 5 times over the weekend.

8. We're keeping "Bad Company" with the legendary Paul Rodgers as he rocks the house Saturday night.

6. Indiana Jones had his ark, we've got ours. Noah would've loved to see Arky take flight.

5. OMG. Demi Lovato. Menudo. Screaming tweens. We love it.

4. Your mama can dance all she wants to Grammy winner Kenny Loggins on Sunday.

3. Concerts. Fireworks. Amusement rides. The AT&T Pit Stop Challenge. Monster trucks. The Horizon Blimp. Great food. We're more than just a lot of hot air.

2. A cow, a pig and a chicken walk into a balloon festival … The Quick Chek Fresh Farm makes its debut as our new signature balloon.

1. Everyone has their dark side, ours happens to be 86 feet tall. May the Flight Be with You as Darth Vader takes over the skies.

We hope to see you out here to experience the magic of ballooning. Take a hot air balloon ride, it's the most fun you'll have standing up

!

|

Back to index...