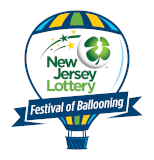 Countdown to Festival Fun

Until the 2020
Quick Chek New Jersey
Festival of Ballooning!
READINGTON, NJ --- At this week's Quick Chek New Jersey Festival of Ballooning, the biggest things going up are the balloons.

As gasoline prices continue to rise, area families looking for things to do closer to home should consider the upcoming Festival, July 25-26-27 at Solberg Airport in Readington in Hunterdon County. The three-day Festival is the largest summertime hot air balloon and music festival in North America and offers 39 hours of entertainment over the weekend, from mass hot air balloon ascensions to live concerts.

"We have brought in new attractions and new entertainment but have not raised our price of admission," said Howard Freeman, executive producer of the Quick Chek New Jersey Festival of Ballooning. "The festival offers an affordable and enjoyable experience close to home, whether its friends wanting to take in a concert, couples looking for a night out, or entire families wanting a day's worth of activities."

The Quick Chek New Jersey Festival of Ballooning features morning-through-night family entertainment including a fireworks extravaganza, a nighttime hot air balloon glow, legendary musical performances, the Comcast Triple Play Galaxy of Thrills death-defying aerial show, the Quick Chek Entertainment Tent, children's interactive exhibits and amusement rides, NASA Exploration Experience, Flippenout extreme trampoline show, Strange Fruit performing arts company of Australia fusing dance, theater and circus atop 13-foot poles, the AT&T Pit Stop Challenge, the Horizon BCBS New Jersey blimp, Shockwave Monster Truck Racing Team, hundreds of arts & crafts and food vendors, and up to 125 hot air balloons taking to the skies over five scheduled mass ascensions throughout the weekend.

Solberg Airport is conveniently located near Interstates 287 and 78 and Routes 22, 202 and 206, just 50 miles from New York City and 60 miles from Philadelphia. Parking is available on-site throughout the weekend or festival-goers can park at nearby Raritan Valley Community College and take the Free Express Shuttle Bus on Saturday and Sunday.

This year's entertainment includes five concerts, the most in Festival history, with performances by the Gin Blossoms on Friday, July 25; Disney's Demi Lovato and Bad Company's Paul Rodgers on Saturday, July 26; and the new Menudo and Grammy winner Kenny Loggins on Sunday, July 27.

And of course there's the magic of ballooning.

Up to 125 colorful and gigantic hot air balloons are scheduled to take off during five scheduled mass ascensions. New balloons this year include an 86-foot-tall, 3-dimensional head of Darth Vader from Star Wars; Arky, an 85-foot-tall, 100-foot-long representation of Noah's Ark complete with 28 animals; and the Quick Chek Fresh Farm, a giant red barn complete with a 61-foot-tall silo, a 30-foot-tall farmer, and friendly animals.

Hot air balloon rides ($185 per person in the morning, $195 per person evening, plus tax) and tethered balloon rides ($15 per person on site) are available to the public, wind and weather permitting. Reservations are suggested (1-800-HOT-AIR-9 or www.balloonfestival.com) as rides sell out fast.

General admission includes admission into the Festival and lawn seating for all shows. Adult tickets are $17 in advance or $25 at the gate; children's tickets (ages 4-12) are $7 in advance, $10 at the gate. Children age 3 and under are free. Advance tickets are available through midnight, Thursday, July 24.

Blue Sky Club VIP tickets, which include reserved concert seats and VIP parking, Kids Jam Special tickets, and Kid's Club packages, are also available. A portion of the proceeds benefits the Children's Miracle Network and children's specialized hospitals.

For tickets and additional information, please call 1-800-HOT-AIR-9, visit online at www.balloonfestival.com or any Quick Chek store in New Jersey or Orange County, NY.

[email protected]

|

Back to index...