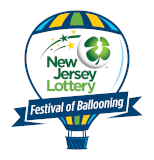 Countdown to Festival Fun

Until the 2020
Quick Chek New Jersey
Festival of Ballooning!
Thank you to all of our patrons, sponsors and of course all of our balloon pilots for making the 26th annual Quick Chek New Jersey Festival of Ballooning in Association with PNC Bank a great success!

More than 100,000 people enjoyed the magic of ballooning on Friday and Saturday as we set single-day attendance records while raising over $125,000 for non-profit organizations such as Children's Miracle Network, the Knights of Columbus, Brain Injury Association of NJ, the Whitehouse Fire Department, Whitehouse Rescue Squad and Readington Fire Department, among others. The record crowds took in spectacular mass hot air balloon ascensions beginning Friday night with awe-inspiring early morning flights Saturday and Sunday morning. New special shaped balloons this year included Darth Vader, Arky, and the Quick Chek Fresh Farm. Balloons were featured from 22 states, 3 countries and one galaxy, far, far away.

Nearly 800 people went up, up and away in balloon rides over the Hunterdon County countryside over the weekend and two couples got engaged during evening flights.

The Gin Blossoms presented by New Jersey Skylands Insurance Companies kicked off our biggest and most successful concert lineup ever. Friday night's mass ascension drew a packed house which was wowed by the fireworks extravaganza which closed out Day 1.

Saturday morning's mass ascension was enjoyed by a national television audience as Fox News Channel's weekend morning show, Fox & Friends, broadcast live from the balloon launch field. Disney's newest teen sensation, Demi Lovato, played to a wildly enthusiastic crowd in the afternoon and Bad Company's Paul Rodgers rocked Readington Saturday night in conjunction with our beautiful balloon glow.

The balloons filled the skies again on Sunday morning followed by two concerts. The new Menudo played before a dedicated crowd in the early afternoon and Grammy winner Kenny Loggins put on one of the great performances in Festival history later in the day. Sunday morning's launch was broadcast live on NBC with John Marshall from 6:00 am to 8:30 am.

In between, families took in the many activities in and around the busy runway including the popular Quick Chek Corral, learned about our nation's plans to build a new lunar outpost in the NASA Exploration Experience where they also had the chance on Friday to meet astronaut and New Jersey native Garrett Reisman, who had walked in space outside the International Space Station just one month earlier.

The balloons weren't our only aerial theater. Galaxy Girl Tina Winn escaped death several times over the weekend during the Comcast Triple Play Galaxy of Thrills, the world's highest aerial act and death-defying stunt show. The crowd-pleasing Strange Fruit performing arts company from Australia had audiences "swooning" with their comedic spectacle that fused dance, theater and circus atop 13-foot poles. And festival-goers flipped out to the FlippenOut extreme trampoline show.

Thank you again for all of your support, we look forward to seeing you next year for the 27th annual Quick Chek New Jersey Festival of Ballooning, July 24-25-26, 2009!



|

Back to index...