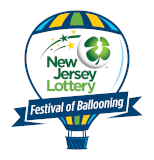 Countdown to Festival Fun

Until the 2020
Quick Chek New Jersey
Festival of Ballooning!
For Immediate Release

FLAG PROVIDES HOPE AFTER FIRE DESTROYS SCHOOL

5th GRADER'S INSPIRATIONAL ESSAY WINS RIDE IN A BALLOON!

EDISON, NJ --- Gabby Martini, a fifth grade student from James Monroe Elementary School in Edison, NJ has been selected as the Grand Prize winner of the 11th annual "PNC Bank American Patriot Essay Contest."

A 75-foot-tall hot-air balloon visited her at school Monday, June 16, 2014 where executives from PNC and the QuickChek New Jersey Festival of Ballooning presented her with her award, which included tethered rides in the balloon in front of all of her classmates and her family!

Her winning essay was inspired by the hope the American Flag gave her when her school was destroyed by a fire earlier this year.

Gabby also received four Volkswagen Blue Sky Club VIP tickets and a will take a ride in a hot air balloon during this year's Festival.

As part of its community outreach efforts through its association with the Festival, PNC asked New Jersey students in grades 2-12 to submit an essay on "What the American Flag Means to Me." The winners were chosen by a panel of judges comprised of PNC Bank and Balloon Festival staff and educators.

Second place was awarded to Qingyan Zhang, an eighth grade student from New Providence Middle School in New Providence, who will receive general admission tickets to the Festival plus Festival merchandise. Victoria Yang, a fifth grade student from Eisenhower Intermediate School in Bridgewater, was awarded third place and will also receive tickets to the Festival.

###

MEDIA CONTACT:

Russ Mensch

Mensch & Company, Inc.

Public Relations & Event Marketing

phone: 201-797-2448

email: [email protected]

|

Back to index...