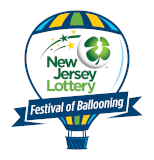 Countdown to Festival Fun

Until the 2020
Quick Chek New Jersey
Festival of Ballooning!
West Caldwell, NJ, (May 20, 2005) – The Quick Chek New Jersey Festival of Ballooning in association with PNC Bank has become a mainstay of summer thanks to its wide assortment of attractions, including the twice daily ascensions of 125 giant hot air balloons, which provide a magical experience for family members of all ages.

Over 175,000 people are expected to attend the 23rd annual edition of the event,

July 29- 31 at Solberg Airport in Readington, New Jersey ( Hunterdon County ).

In addition to the daily ascensions of the giant balloons, which occur at dawn and dusk each day, the Quick Chek New Jersey Festival of Ballooning also boasts a full lineup of family entertainment. Headlining the attractions for the younger set this year is Jay Jay the Jet Plane, an interactive educational show for children starring the popular PBS character.

Other family shows include The Music of Dr. Planet, performers Macheis Wind, Joe Murray and The Airborne Jugglers and Dawnie's "Silly Critter Talk." Magic from Al Belmont and the world famous Kachunga and the Alligator Show is also featured, along with amusement rides and the Quick Chek Entertainment Tent, providing attendees with a full day of family fun!

Legendary musical acts are a staple of the Quick Chek New Jersey Balloon Festival, and this year's star-studded lineup brings back a popular list of performers.

Taking the stage on Friday night at 8 pm is Herman's Hermits starring Peter Noone, playing their hits "I'm Henry VIII I am," "Mrs. Brown You've Got a Lovely Daughter," " I'm Into Something Good" and "Silhouettes."

Come Sail Away on Saturday night (8 pm) with rock star Dennis DeYoung: The Music of STYX, presented by WPLJ 95.5 FM, as DeYoung plays his classics "Babe," "Mr. Roboto" and "Lady."

Sunday afternoon (3 pm) promises to be rockin' good time as PNC Bank in conjunction with NJ 101.5 FM presents the incomparable Doobie Brothers performing hits like "Black Water," "Listen to the Music," " Takin' it to the Streets," " Rockin' Down the Highway" and more!

Once the sun has gone down, and immediately following the band performances, more magic will be in the skies as Marriott Hotels hosts a Fireworks Extravaganza on Friday night. And on Saturday night it will be Balloon Glow, as the central New Jersey skies will light up as all 125 balloons glow at once.

The Festival opens at 1 pm on Friday, July 29. The hours of the event each day are as follows:

Friday, July 29 – 1 pm – 10 pm

Saturday, July 30 – 6 am – 10 pm

Sunday, July 31 – 6 am – 8 pm

One of the world's most breathtaking sights is the ascensions of the giant balloons. Wind and weather permitting, the ascensions are scheduled at the calmest hours of the day as follows:

Friday – 6:30 pm

Saturday – 6:30 am and 6:30 pm

Sunday – 6:30 am and 6:30 pm

Included among the 125 giant balloons are a number of special shaped balloons including the Quick Chek Eagle, PNC Bank American Flag, Old McDonald's Farm, United Van Lines Truck, The Little Bees Lilly & Joey, 84 Lumber Golf Ball and Energizer Bunny among others.

Tickets can be ordered by calling 1 800 HOT AIR 9 (1 800 468-2479) or by going online at www.balloonfestival.com and clicking on the "Tickets & Merchandise" link. Advance ticket prices are: $17 for adults and $7 for children 54 inches and under. Children three years old and under are admitted free. Tickets will be available at all Quick Chek food stores in New Jersey beginning in June.

Additional information and a full entertainment schedule can be obtained by calling 1 800 HOT AIR 9 (1 800 468-2479) or by going to www.balloonfestival.com

|

Back to index...