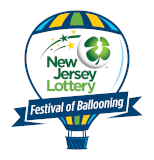 Countdown to Festival Fun

Until the 2020
Quick Chek New Jersey
Festival of Ballooning!
QUICK CHEK NEW JERSEY FESTIVAL OF BALLOONING AND AT&T
ANNOUNCE SPONSORSHIP RENEWAL

TECHNOLOGY TAILGATE TOUR, CELL PHONE FOR SOLDIERS PROGRAMS TO BE FEATURED


READINGTON, NJ --- Continuing to move onward and upward, the Quick Chek New Jersey Festival of Ballooning has announced the renewal of its marketing partnership with AT&T for the upcoming 2009 festival.

Morristown, NJ-based AT&T joins title sponsor Quick Chek stores and PNC Bank as the third major corporate sponsor to renew for the July 24-25-26 event, the largest summertime hot air balloon and music festival in North America. With 175,000 attendees, worldwide media coverage, and an average family stay of 7½ hours, selling points for sponsors to showcase programs and introduce new consumer products are attractive and numerous.

"We are very happy that AT&T has once again chosen the Festival to promote its line of high quality products and services," said Festival Executive Producer Howard Freeman. "They have been a great partner the past five years in all aspects of what we're about: family entertainment, ballooning, and community service. They are a great example of leveraging their sponsorship as they continue to bring fun and exciting products and activities to the Festival."

New to this year's Festival is the AT&T Technology Tailgate Tour. This mobile tour features a 53-foot-long tractor trailer that expands into a high-tech interactive playland and invites guest to interact with AT&T's high speed Internet, mobility products, DIRECTV satellite and photo marketing tools. The tour is equipped with 13 plasma TVs, 17 touchscreen monitors, 23 LCD monitors, 15 wireless devices, laptop computers, computer terminals, wireless gaming and more! Festival attendees will have the opportunities to win instant prizes by answering questions at touchscreen trivia stations inside the trailer. It will also provide added incentive for consumers to interact with the products and services on display inside the tour truck.

"We're proud this year once again to be a sponsor of a great summer time family event in New Jersey," said Tom DeVito, Vice President and General Manager for AT&T in New Jersey and New York. "We hope attendees stop by the AT&T Technology Tailgate Tour to test out some cool wireless products and drop off their unwanted cell phones for our annual Cell Phones for Soldiers recycling drive."

Keeping with the Festival's belief of "doing well by doing good," AT&T will have a Cell Phone for Soldiers collection bin to accept unwanted cell phones for recycling. The proceeds from the recycled wireless devices will be used to purchase pre-paid phone cards for U.S. Military stationed overseas. AT&T and the Festival are inviting Festival attendees to help provide every military member stationed in Iraq the ability to make a free 20-minute phone call home. With the help of thousands of wireless customers across the country, AT&T and the charity have recycled more than 2.5 million wireless devices since Earth Day 2008, beating their Earth Day 2009 goal by more than 700,000 phones.

AT&T will also sponsor one of the Festival's "Hare and Hound" competitions in which their corporate-logoed 75-foot-tall hot air balloon will serve as the lead balloon during one of the Festival's mass hot air balloon ascensions. Wherever the AT&T balloon lands, its pilot will place a giant "X" on the ground. The remaining 100 or so balloons will then try and "chase" the AT&T balloon and drop a marker as close to the "X" as possible.

And if a flying hot air balloon doesn't attract enough attention, AT&T will also gain visibility with signage throughout the Festival's on-site parking lots.


"We provide numerous platforms and opportunities for any company or organization to rise above the clutter in every sense of the word," said Freeman. "Together we can excite and engage consumers in unique ways that allows a sponsor to earn a positive return on their investment."

The 27th annual Quick Chek New Jersey Festival of Ballooning in Association with PNC Bank features the awe-inspiring spectacle of up to 125 giant hot air balloons taking to the skies five times throughout the weekend. Three days of affordable family entertainment includes a fireworks extravaganza, a nighttime hot air balloon glow, live musical performances from Grammy award winning artists and the latest teen sensations, children's entertainment, interactive exhibits by leading brands such as AT&T, the NBA and NASA, as well as providing selling and sampling opportunities for hundreds of arts and crafters and vendors.

For additional information about sponsorship and marketing opportunities, please call 1-800-HOT-AIR9 or visit online at www.balloonfestival.com.


|

Back to index...