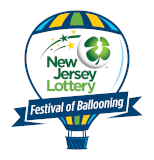 Countdown to Festival Fun

Until the 2020
Quick Chek New Jersey
Festival of Ballooning!
We know that consumers are spending their hard-earned money more carefully and are looking for the most they can get in return. Our focus continues to be on providing that value to our attendees. For the third year in a row, we're keeping the cost of general admission the same as it's been. The balloons will be going up, but not our prices!

Want to save money and look cool? How about our 50% off sale! Our $20 Adult Ticket & T-shirt package includes one adult ticket and one 2009 commemorative t-shirt. Our $10 Child Package includes one child ticket and one 2009 commemorative t-shirt. That's a 50% savings of what you would pay if you buy them separately. Tickets are good for any one day admission, July 24, 25, or 26, 2009, and must be purchased by July 17. Visit our Tickets & Merchandise section for more information!

Where else for the single price of admission can you enjoy the awe-inspiring sight of up to 125 colorful hot air balloons taking to the skies over the scenic Hunterdon County countryside? And we don't charge extra for coming to both our spiritual early morning ascensions and our majestic evening launches in the same day.

On Friday it's the first of our five scheduled mass ascensions, Beach Boys founder Al Jardine and His Endless Summer Beach Band in concert, followed by our fireworks extravaganza. On Saturday we have two ascensions, live performances by Disney's Meaghan Martin and Kool & The Gang, and our spectacular balloon glow. On Sunday it's two more ascensions and a live concert with 5-time Grammy Award winner Michael McDonald.

We work hard to bring you a weekend full of the most special "special-shaped" balloons, the hottest bands, newest attractions and interactive entertainment year after year (playing on the moon was pretty cool last year wasn't it?). The Quick Chek Farm Fresh, the PNC American Flag, Darth Vader. Interactive exhibits such as the AT&T Technology Tailgate Tour. And the world's greatest high wire act, the Flying Wallendas. We expanded our legendary concert series of rock stars and Grammy winners to appeal to our ever-growing fan base, starting with the Jonas Brothers teen sensations in 2007 and Disney's Demi Lovato last year, who literally had tweens lined up the hill to the launch field.

Yes, thousands of kids saw the Jonas Brothers or Demi in concert and spent an entire day at the Festival for the children's admission price of just $10. Don't miss your chance to see fellow Camp Rock star Meaghan Martin!

In addition, you'll enjoy unlimited daily access to balloon launches, family entertainment shows and attractions, and many of our arts and crafters and vendors give out free samples and products when you stop by their booths.

All of this for the price of Festival admission, which we strive to keep affordable. Our on-site parking is just $5or you can park for free at nearby Raritan Valley Community College and take the Free Express Shuttle Bus to the Festival on Saturday and Sunday.

So when you're looking for that special something to do with the kids, you'll find that the average day at an area theme park costs much more in comparison.

We're committed to managing our costs and not pass them on to you. We'd rather invest in new balloons such as Pandy the panda bear, the Little Pirate and Clown-N-Around; new entertainment and new attractions, to further your entertainment pleasure in creating a special festival experience that distinguishes us from all others year after year.

Make your Summer plans now to join us as we celebrate 27 years of affordable family fun through the magic of ballooning. We've got something for everyone!


|

Back to index...