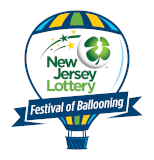 Countdown to Festival Fun

Until the 2020
Quick Chek New Jersey
Festival of Ballooning!
FESTIVAL TICKETS NOW ON SALE! BUY NOW, SAVE BIG!

Summer's on its way and tickets for this year's 27th annual Quick Chek New Jersey Festival of Ballooning in Association with PNC Bank are now on sale.

You can enjoy great savings by purchasing tickets in advance, saving $8 off the price of an adult general admission ticket and $3 off of a children's general admission ticket --- that's 30% or more off admission at the gate! Tickets are available at all 118 Quick Chek store locations throughout New Jersey and Orange County, NY beginning Monday, June 1 --- another great reason to get fresh and go fast by visiting your local Quick Chek, where you can enjoy a fresh breakfast, delicious subs, sandwiches, wraps and salads, fresh brewed coffee and refreshing iced coffee. To find the nearest Quick Chek visit www.quick-chek.com.

Festival tickets can also be purchased over the phone at 1-800-HOT-AIR9 or online at www.balloonfestival.com.

JOIN THE BLUE SKY VIP CLUB
Escape from the crowds and relax VIP style. Each Blue Sky VIP Club ticket comes complete with admission to the Festival, a reserved concert seat, entrance to the Blue Sky VIP Club tent, VIP parking, and access to executive restrooms. There are limited seats available.

Friday tickets - include a reserved concert seat to Al Jardine, $50.
Saturday tickets - include a reserved concert seat to Kool & The Gang, $65.
Sunday tickets - include a reserved concert seat to Michael McDonald, $65.
3-Day tickets - include a reserved concert seat to all three performances, $149.

MEAGHAN MARTIN CONCERT & MEET & GREET
If you missed out on seeing the Jonas Brothers or Demi Lovato, here's your chance to get tickets to this year's hot performer – Disney's Meaghan Martin, star of Camp Rock, Camp Rock 2, and 10 Things I hate About You. Tickets, which include Festival admission, are $25 for children and $35 for adults and provide priority for Meaghan's meet-and-great following the show. Buy your tickets in advance, the Jonas Brothers and Demi Lovato shows were complete sell outs.

FESTIVAL DATES & HOURS
Festival hours are Friday, July 24, from 1:00 p.m. to 10:00 p.m.; Saturday, July 25, from 6:00 a.m. to 10:00 p.m.; and Sunday, July 26 from 6:00 a.m. to 8:00 p.m.

With new balloons such as Pandy the panda bear, the Little Pirate, and Clown-N-Around, the return of Darth Vader, the Quick Chek Farm Fresh, and the PNC Flag plus a great concert lineup, we strongly suggest you get your tickets now!




|

Back to index...