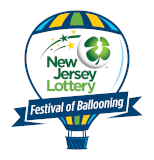 Countdown to Festival Fun

Until the 2020
Quick Chek New Jersey
Festival of Ballooning!
If you missed the fireworks this weekend you still have the opportunity to see a great show!

BALLOONS, TUNES & BOOMS!

FRIDAY, JULY 24

Balloons
Mass ascension of up to 125 colorful hot air balloons
Festival favorites and 4 new special shapes!
Darth Vader, the Quick Chek Fresh Farm, PNC American Flag



New this year!

Pandy the 100-foot-tall, 675 pound panda bear; the 110-fot-tall Little Pirate; the 110-foot-tall Clown-N-Around; and a 52-foot-round golf ball at 6:30 p.m.

Tunes
Fun, fun, fun with the music of the Beach Boys
Al Jardine's Endless Summer Band in concert at 8:00 pm

Booms
A Fireworks extravaganza not to be missed!
at 9:30 pm



OPENING DAY, FRIDAY, JULY 24

YOU WON'T BELIEVE YOUR SKIES!



Tickets are going fast for this year's blockbuster concert lineup but some good seats remain. Relax in the Blue Sky Club with VIP parking, shaded viewing of up to 125 balloons, executive restrooms and a seat in the first 20 rows for Al Jardine, Kool & The Gang, or Michael McDonald. All for much less than what you would pay to see the concerts alone.

Click here to purchase great tickets today!


|

Back to index...