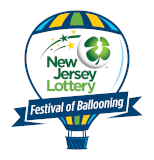 Countdown to Festival Fun

Until the 2020
Quick Chek New Jersey
Festival of Ballooning!
BALLOON FESTIVAL OFFERS AFFORDABLE FAMILY FUN

READINGTON, NJ --- The 27th annual Quick Chek New Jersey Festival of Ballooning in Association with PNC Bank, the largest summertime hot air balloon and music festival in North America, is set to take off July 24-25-26, 2009 with new special shaped balloons, its biggest concert lineup, and morning-through-night family entertainment. Affordability is the theme this year.

"We know that consumers are spending their hard-earned money more carefully and are looking for the most they can get in return. Our focus continues to be on providing that value to our attendees," said Howard Freeman, Executive Producer of the three-day event, July 24-25-26, 2009 at Solberg Airport in Readington, NJ. "For the third year in a row, we're keeping the cost of general admission the same as it's been. The balloons will be going up, but not our prices!"

Here are some of the highlights the Festival offers, all for the price of admission:

Opening Day on Friday, July 24 is "Balloons, Tunes & Booms." The "magic of ballooning" begins with the first of five scheduled mass hot air balloon ascensions where up to 125 balloons will take to the skies over the scenic Hunterdon County countryside scheduled for 6:30 p.m. Beach Boys co-founder Al Jardine's Endless Summer Band performs live in concert at 8:00 p.m. followed by a fireworks extravaganza at 9:30 p.m.

"Celebration Saturday" on July 25 begins just after sunrise with a mass ascension at 6:30 a.m. Having helped launch the careers of the Jonas Brothers in 2007 and Demi Lovato last year, the Festival has a 2-for-1 Kids Concert Spectacular Saturday afternoon beginning at 1:00 p.m. with live concerts and meet-and-greets with Disney's new teen sensation Meaghan Martin and newest boy band One Call. Saturday's evening mass ascension is scheduled for 6:30 p.m. followed by Kool & The Gang's 40th Anniversary Concert Celebration in conjunction with the nighttime hot air balloon glow at 8:00 p.m.

There's "Yoga & Yoda" on Sunday, July 26 with an early morning yoga workout as the balloons featuring Darth Vader take to the skies at 6:30 a.m. Fresh 102.7FM will broadcast their Acoustic Sunrise radio show live to add to the spiritual feel that morning when the air is cooler and the setting a little more peaceful. The Festival's concert series concludes when PNC Bank presents 5-time Grammy winner Michael McDonald in concert at 3:00 p.m. followed by the final mass ascension at 6:30 p.m.

In between, attendees will enjoy a host of family entertainment activities and attractions. The Flying Wallendas, one of the greatest circus acts of all time, will perform their death-defying high wire act high atop the Festival grounds. There are interactive exhibits such as the AT&T Technology Tailgate Tour and the PNC Mobile Learning Center; children's age appropriate concerts, entertainers and activities in the enormous Quick Chek Entertainment Tent throughout the Festival throughout the weekend; along with hundreds of arts and crafters and vendors.

"Whether you're a balloonatic who comes to every Festival, or if you haven't been here in a while, there will be something new, exciting and different," said Freeman, who noted that more than 150,000 people are expected.

New special shaped balloons this year include a 100-foot-tall panda bear, a 110-foot-tall pirate, a 110-foot-tall clown, and a 52-foot round golf ball. They're scheduled to join Festival favorites the Quick Chek Fresh Farm, the PNC American Flag, the return of the Darth Vader hot air balloon, and the Energizer Bunny, the world's biggest balloon.

The Festival has upgraded its food and beverage service with patrons scheduled to enjoy new menu items such as fresh Angus burgers and flavored iced coffees from the on-site Quick Chek store, traditional festival fare from Greenlight Food Service of Long Valley including the Festival favorite balloon shaped funnel cakes.

Tickets, which include lawn seating for the concerts, are $17 in advance for adults ($25 at the gate), $7 in advance for children ages 4-12 ($10 at the gate), ages 3 and under are free. Advance tickets available through midnight July 23. Blue Sky Club VIP tickets, which include Festival admission, reserved concert seating, VIP club tent admission and parking, and priority viewing for the balloons along the flight line, are $50-$65.

On-site parking is available all three days beginning Friday for just $5 a day or attendees can park for free at nearby Raritan Valley Community College and take the Free Express Shuttle Bus to the Festival on Saturday and Sunday.

For tickets or further information call 1-800-HOT-AIR9 or stop into any Quick Chek store.

|

Back to index...