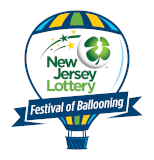 Countdown to Festival Fun

Until the 2020
Quick Chek New Jersey
Festival of Ballooning!
IAN "THE INVADER" HICKMAN WINS 1ST QUICK CHEK SUB EATING CONTEST
TO ADVANCE TO CHAMPIONSHIP ROUND AT QUICK CHEK NEW JERSEY FESTIVAL OF BALLOONING

NEXT QUALIFYER IN HAZLET ON JUNE 22



Ian "The Invader" Hickman invaded the Quick Chek store in Hackensack on June 8, downing 5 full-loaded Italian Subs in 10 minutes to win the first of three qualifying events and advance to the championship round of the 2nd Annual Quick Chek Original Toasted Italian Sub Eating Contest on Saturday, July 29 at the 24th annual Quick Chek New Jersey Festival of Ballooning in association with PNC Bank.

The three-day Festival is the largest summertime hot air balloon festival in North America and the largest family entertainment event in New Jersey.

"The Invader" edged Joshua "The Lumberjack" Hearne, who ate 4 ¼ subs, and Mike "The Italian Stallion" Grove, who devoured 3 ¾ subs, to win the contest. All three qualified for the Quick Chek Original Toasted Italian Sub Eating Contest Championship, which was won last year by "Gentleman" Joe Menchetti, who ate 6 fully-loaded subs.

9 competitors participated in the lively chow down in Hackensack, which draw a large crowd of onlookers and news media. All 3 qualifying events are sanctioned by the Association of Independent Competitive Eaters.

The second of three qualifiers will be on Thursday, June 22 at 2:00 p.m. at the Quick Chek store located at 1170 Route 36 South in Hazlet. Anyone interested in participating in the contests can register at www.competitiveeaters.com. WRAT, 95.5, will be on hand and is scheduled to enter its very own on-air personality Marty Martinez into the competition.

The third and final qualifier is in Bridgewater on July 13.

|

Back to index...