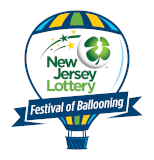 Countdown to Festival Fun

Until the 2020
Quick Chek New Jersey
Festival of Ballooning!
QUICK CHEK NEW JERSEY FESTIVAL OF BALLOONING

AT&T CONTINUE MARKETING PARTNERSHIP

READINGTON, NJ --- Continuing to move upward, the Quick Chek New Jersey Festival of Ballooning has announced the continuation of its marketing partnership with AT&T for the upcoming 2011 Festival.

With offices in Morristown, NJ, AT&T will continue to keep Festival attendees connected with the latest wireless devices and technology for the seventh straight year. AT&T joins title sponsor Quick Chek stores and PNC as the third major corporate sponsor to renew for the July 29-30-31 event, the largest summertime hot air balloon and music festival in North America.

Attracting upwards of 175,000 people and worldwide media coverage, the Festival has been named one of the American Bus Association's (ABA) Top 100 events in the country for 2011 and offers attractive demographics for consumer-oriented sponsors.

"AT&T is a great example of how a marketer leverages their sponsorship to introduced fun and exciting products to the consumer," said Festival Executive Producer Howard Freeman. "We are very pleased that they have once again chosen the Festival to showcase their line of high-quality products and services. They continue to add value to our attendees' experiences throughout the Festival weekend."

AT&T's unique marketing positioning includes their sponsorship of this year's Saturday night headlining concert in conjunction with the Festival's hugely popular nighttime hot air balloon glow.

The company has used its AT&T Technology Zone to provide Festival-goers with a fun and educational experience as a platform for their current brand focus. This has included state-of-the-art mobility products, photo marketing tools, and wireless gaming devices. With the nation's fastest mobile broadband network offering true smartphone multi-tasking, attendees have received the latest Festival news and updates throughout the weekend via text message alerts.

"It's been our pleasure to be a sponsor for several years of this wonderful family event," said Tom DeVito, vice president and general manager for AT&T in New Jersey and New York. "We'll be flying the AT&T hot air balloon again this year and we hope all the attendees stop by the AT&T tent to try out the latest smartphones, check out cool apps, and enter for a chance to win some prizes."

In addition to flying its 75-foot-tall hot air balloon during the Festival's five scheduled mass hot air balloon ascensions and at special media-only preview, AT&T has participated in the Festival's community outreach programs. Last year they helped introduce the magic of ballooning to children in Bethlehem, PA two days before the event opened to the public.

The 29th annual Quick Chek New Jersey Festival of Ballooning in Association with PNC is the premier family entertainment event in the Northeast, featuring the awe-inspiring spectacle of up to 125 giant hot air balloons taking to the skies over three days. The Festival offers live concerts from Grammy Award winning artists; a fireworks extravaganza; a nighttime hot air balloon glow; family-oriented entertainment and interactive activities including the Quick Chek Hospitality Tent and the PNC Mobile Learning Center; and provides selling and sampling opportunities for hundreds of arts and crafters and vendors.

For additional information about sponsorship and marketing opportunities, please call 973-882-5464 or visit online at www.balloonfestival.com.

|

Back to index...