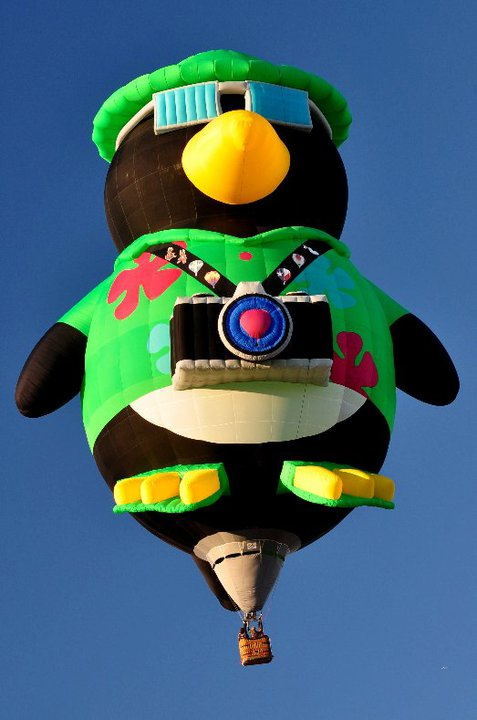 READINGTON, NJ --- As soon as the balloons take to the skies at the Quick Chek New Jersey Festival of Ballooning, tens of thousands of digital cameras will be whirring away. But will you get the best shot and the most out of your pictures?
The three-day Festival, July 29-30-31, 2011 at Solberg Airport in Readington, is the largest summertime hot air balloon and music festival in North America and one of the most photographed events in the United States. To help attendees get the most enjoyment out of their picture-taking experience, the Festival is teaming with Unique Photo, New Jersey's largest camera and video superstore, to offer festival-goers on-site classes in photography.
"As the leader in photography education in New Jersey, this is another great way for us to help photographers, from the beginner to the pro, capture this breathtaking event and create memories to last a lifetime," said Matt Sweetwood, President of Unique Photo in Fairfield, NJ. "With the help of Sony, we'll be doing workshops right at the balloon launch field with access you can't get anywhere else."
"We're very pleased to have the largest camera store in the state add to our attendees' experience at the festival," said Howard Freeman, the festival's executive producer. "We launch the balloons an hour after sunrise and an hour before sunset, so you're taking pictures of the balloons against two very different skies. These classes will help you best capture the magic of ballooning and the spectacular colors and shapes of up to 125 balloons as they take to the skies."
Open to photographers of all levels, the first workshop will be at Unique Photo's superstore on Route 46 in Fairfield on Thursday, July 28 at 6:00 p.m. where attendees will learn the proper techniques of photographing hot air balloons during inflation and launch.
Classes at the Festival will be held Friday, July 29 at 6:00 p.m. where attendees can photograph the first scheduled mass inflation and launch; Saturday, July 30 at 6:00 a.m. to capture the majesty and tranquility of the first early morning mass inflation and ascension; and Sunday, July 31 at 6:00 a.m. They'll then be able to spend the rest of their day enjoying all that the Festival has to offer, from concerts to entertainment and fun for the entire family.
One of the new special shaped balloons sure to be photographed is the Unique Photo/Sony SnoBird balloon, a 100-foot-tall tourist penguin complete with a flowered shirt, hat, sunglasses, sandals, and of course, a camera!
More than 1,000 people each month take classes at the state-of-the-art store through its Unique University, which offers affordable classes ranging from understanding your D-SLR camera to pet and wedding photography. Classes and seminars are taught by Unique Photo's staff of professional photographers as well as by some of the world's greatest photographers, including PBS television host Art Wolfe, whose seminar attracted more than 500 people last year.
Registration is $59 and includes festival admission, access to the balloon launch area, and the workshop. VIP registration is $299 and includes the above as well as VIP parking, access to the Volkswagen Blue Sky VIP Club, VIP access to the balloon launch area where you can capture the magic of ballooning up close, and a ride on one of the balloons during a mass ascension.
Class size is limited. Visit www.uniquephoto.com for details on classes and www.balloonfestival.com or facebook.com/NJBalloonFestival for Festival information.
###
MEDIA CONTACT:
Russ Mensch
Mensch & Company, Inc.
201-797-2448