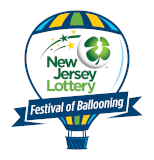 Countdown to Festival Fun

Until the 2020
Quick Chek New Jersey
Festival of Ballooning!
QUICK CHEK RETURNS AS TITLE SPONSOR OF NEW JERSEY FESTIVAL OF BALLOONING

20 YEAR SPONSORSHIP IS LONGEST IN THE COUNTRY

READINGTON, NJ --- For the 20th consecutive year, Quick Chek stores is returning as title sponsor of the annual New Jersey Festival of Ballooning, the largest summertime hot air balloon and music festival in North America.

The Whitehouse Station, NJ-based company utilizes its Festival partnership to introduce new products to consumers as well as showcase its award-winning customer service and commitment to the community. Its involvement with the balloon festival is the longest-running title sponsorship of any major festival in the United States.

The Festival's 165,000 attendees enjoy seeing Quick Chek's signature, special-shaped hot air balloon each summer as well as tasting their latest fresh food offerings, many of which will be introduced at the three-day Festival, July 27-28-29, 2012 at Solberg Airport in Readington, NJ.

"The Festival is our number one branding event, it generates millions of media impressions throughout our market," said Quick Chek CEO Dean Durling. "It is our top team-building event with more than 500 team members and their families pitching in. We dazzle our guests with three days of fun and excitement."

This year marks the Festival's 30th anniversary. It has been named one of the Top 100 Events in North America five times by the American Bus Association, including 2011, and has been named the No. 1 thing to do in the state in 2012 by New Jersey Monthly magazine.

Through an aggressive promotional campaign, the event attracts worldwide media coverage and offers highly visible branding and mobile marketing opportunities, from signage on giant hot air balloons to providing numerous selling and product sampling opportunities, a boon for consumer-oriented marketers looking to reach the Festival's highly lucrative family market.

"Quick Chek has been a true partner in every sense of the word, from supporting the actual event to sharing our belief in being involved with the community," said Howard Freeman, Executive Producer of the Festival, which has raised more than $2 million for local charities the past 19 years. "They work with us on a year-round basis to create special experiences for our attendees and are a great example of how a sponsor embraces an event to maximize and activate their partnership."

A market leader in food service with an exceptional fresh coffee and fresh food program, Quick Chek operates 128 retail locations throughout New Jersey and Southern New York, including 12 pharmacy stores and 33 locations with fuel. The company has been recognized as one of the Best Places to Work in New Jersey.

Quick Chek builds a huge 2,700-square-foot, air conditioned replica store at the Festival which features oven-toasted subs, breakfast sandwiches, hot and iced coffees, frozen drinks and milkshakes. It also constructs an enormous hospitality tent that provides families with the opportunity to relax together in between balloon ascensions and headlining concerts, a further demonstration of the company's dedication to customer satisfaction.

Off site, company stores serve as the Festival's exclusive retail ticket outlet offering generous advance discounts to its customers.

The Quick Chek New Jersey Festival of Ballooning features the awe-inspiring spectacle of more than 100 colorful hot air balloons from around the world taking to the skies six times throughout the weekend including a media-only mass ascension. Three days of morning-through-night family entertainment include fireworks, a nighttime hot air balloon glow, and a live concert series featuring Grammy Award winning artists.

For additional information about the Festival's sponsorship and marketing opportunities, please call 973-882-5464 or visit online at www.balloonfestival.com.

###

MEDIA CONTACT:

Russ Mensch

Mensch & Company, Inc.

Public Relations & Event Marketing

201-797-2448

|

Back to index...