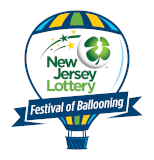 Countdown to Festival Fun

Until the 2020
Quick Chek New Jersey
Festival of Ballooning!
For Immediate Release

BALLOON FESTIVAL LIFTS STATE AND LOCAL ECONOMY,

TRAVEL & TOURISM IMPACT CITED AT $42.7 MILLION

READINGTON, NJ --- The annual Quick Chek New Jersey Festival of Ballooning in Association with PNC Bank fills the skies over Central New Jersey with more than 100 hot air balloons every summer. While tens of thousands of eyes look skyward, the Festival's impact can be felt on the ground, too.

The largest summertime hot air balloon and music festival in North America attracts upwards of 165,000 people every July to Solberg Airport in Readington, NJ. Revenue from ticket sales, lodging, meals, shopping, souvenirs, services and local taxes along with the costs of producing the three-day event translate into $42.7 million into the local and state economies.

This includes direct and indirect spending, seasonal hiring, and a host of other factors that have been determined in a recent economic analysis of the Festival, which celebrates its 30th anniversary July 27-28-29, 2012.

"New Jersey is proud to host the premier balloon and music festival in the United States," said Lt. Governor Kim Guadagno. "You cannot measure its value to the State in dollars and cents alone. It is a true destination event that people look forward to every year and is a proven revenue generator for our tourism industry."

"We've always felt we put on a great entertainment event and that we have a positive financial impact on the region, said Festival Executive Producer Howard Freeman. "There's so much that goes into producing an event of this magnitude. We employ more than 900 people, including numerous New Jersey-based contractors and vendors who help us physically transform Solberg Airport into the Festival grounds. We have hundreds of arts and crafters and food vendors on site plus balloon pilots from around the state and around the world. Not only do the pilots fly for the enjoyment of our attendees, they generate revenue through paid rides to hundreds of people throughout the weekend."

Working with the New Jersey Division of Travel & Tourism, the Festival has been named one of the Top 100 Events in North America five times by the American Bus Association, including last year's designation. Other international events on the list have included the 2010 Winter Olympics, the Texas State Fair, the Tanglewood Music Festival and numerous Super Bowls.

The Festival has also been named the No. 1 Thing to Do in New Jersey in 2012 by New Jersey Monthly magazine.

"The Quick Chek New Jersey Festival of Ballooning is an event demonstrating a positive economic impact," said Dr. Jack Samuels, Professor of Marketing at Montclair State University, who conducted the analysis. "The festival shows that it is part of the fabric of the community, one that generates dollars for the local and regional economy."

Economic impact analysis includes total spending resulting from festival attendance; total spending on hotels and other direct-to-merchant expenditures resulting from overnight, festival-related stays; direct expenditures by the festival itself such as full and part-time salaries; payments to New Jersey-based subcontractors including hot air balloon pilots; payments to out-of-state subcontractors including hot air balloon pilots; miscellaneous goods and services procured from both in-state and out-of-state based companies.

"Hunterdon County and the entire state benefit each year by having 165,000 people gain exposure to the region," added Freeman. "We're the premier family entertainment event in the Northeast with very attractive demographics for the business leaders, sponsors and travel-related companies who come to the area."

"The Festival is our number one branding event, it generates millions of media impressions throughout our market and serves as our top team-building event with more than 500 team members and their families pitching in," said Dean Durling, CEO of Whitehouse Station, NJ-based Quick Chek, the Festival's title sponsor the past 20 years. "We dazzle our guests with three days of fun and excitement."

The Quick Chek New Jersey Festival of Ballooning in Association with PNC Bank celebrates its 30th anniversary July 27-28-29, 2012. For further information please visit www.balloonfestival.com.

###

MEDIA CONTACT:

Russ Mensch

Mensch & Company, Inc.

Public Relations & Event Marketing

201-797-2448

|

Back to index...