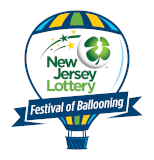 Countdown to Festival Fun

Until the 2020
Quick Chek New Jersey
Festival of Ballooning!
Named Best Company to Work for in New Jersey and New York State
Extends Partnership of Largest Summertime Hot Air Balloon & Music Festival

READINGTON, NJ --- For the 21st consecutive year, QuickChek is returning as title sponsor of the annual New Jersey Festival of Ballooning, the largest summertime hot air balloon and music festival in North America. It is the longest-running sponsorship of a Festival in the United States.


Based in Whitehouse Station, QuickChek was recently named one of the Best Companies to Work For in both New Jersey and New York State; the third year in a row the company has received this honor in the Garden State.


A market leader in food service with an exceptional fresh coffee and fresh food program, QuickChek operates 133 retail locations throughout New Jersey and Southern New York, including 12 pharmacy stores and 37 locations with fuel.


"We pride ourselves in maintaining a presence within the communities we serve. It is this sense of community that makes our organization proud to be part of the Festival year after year," said QuickChek President and CEO Dean Durling. "It is a great opportunity for us to showcase our award-winning customer service and help throw the biggest party of the summer."


"We're proud of the company we keep and we couldn't be more proud of the relationship we enjoy with QuickChek," said Festival Executive Producer Howard Freeman. "They are a true partner in every sense of the word. They know how to maximize their involvement over several months leading into the actual Festival weekend in July and share our belief in being actively involved within our community throughout the year."


The Festival has raised more than $2.1 million for local charities and non-profit organizations since The Festival Group and QuickChek came together in 1993. The event has an economic impact of $42.7 million on the state's travel and tourism and local economies.


The Festival's 165,000 attendees enjoy seeing Quick Chek's signature special-shaped hot air balloon as well as tasting their latest fresh food and delicious beverage offerings, many of which are introduced for the first time at the Festival.


QuickChek's huge 2,700-square-foot, air conditioned replica store is a favorite stop at the Festival, where attendees can enjoy oven-toasted subs, breakfast sandwiches, hot and iced coffees, frozen drinks, milkshakes and more. QuickChek's enormous hospitality tent provides families with the opportunity to relax together in between balloon ascensions and headlining concerts, a further demonstration of the company's dedication to customer satisfaction.


Off site, company stores serve as the Festival's exclusive retail ticket outlet with tickets going on sale at an Early Bird savings of 43% off the gate price beginning Memorial Day.

The three-day Festival, July 26-27-28, 2013 at Solberg Airport in Readington is the largest summertime hot air balloon and music festival in North America. Featuring 39 hours of affordable family entertainment including twice a day mass ascensions of 100 hot air balloons from around the world, a live concert series with Grammy Award winning artists and day-long activities and entertainment, the QuickChek New Jersey Festival of Ballooning has been named one of the Top 100 Events in North America for 2013 by the American Bus Association's international tour and motorcoach operators, the sixth time the Festival has received this honor.


For additional information regarding sponsorship opportunities or Festival information, please visit www.balloonfestival.com.


|

Back to index...