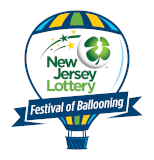 Countdown to Festival Fun

Until the 2020
Quick Chek New Jersey
Festival of Ballooning!
If your message isn't standing out enough, how about advertising on a 25 acre "billboard" during the most photographed event in the Northeast?

The QuickChek New Jersey Festival of Ballooning, which offers companies and savvy marketers the opportunity to rise above the clutter with signage on its 100 giant hot air balloons, is now offering the opportunity for someone to spread their message on the Festival's 25 acre launch field --- the equivalent of 25 football fields.

Named one of the Top 100 Events in North America in 2013, the Festival attracts upwards of 165,000 people and worldwide media coverage with more than 565 million media impressions.

The center of attention is the Festival's Balloon Launch Field, 25 acres of fresh mowed grass where the balloons are inflated and take off from in front of tens of thousands of people each morning and early evening.

The Festival takes place at Solberg Airport in scenic Readington, New Jersey, halfway between New York and Philadelphia in the most coveted media market in the world. It even offers a media-only mass ascension covered by the global wire services, leading daily newspapers, local television newscasts and the New York morning shows.

"This is truly one of the most unique opportunities for a company to gain visibility in this highly desired market," said Festival Executive Producer Howard Freeman. "Your message will be seen by our 165,000 attendees, by 3,000 people and pilots taking balloon rides, it will be posted on social media worldwide, and it will be seen by passenger jets flying overhead into Newark and Philadelphia throughout the weekend."

Through an aggressive promotional campaign, the Festival offers highly visible branding and sponsorship activation opportunities, from signage on 75 foot tall balloons in the sky to lead-generation, product-selling and sampling, a boon for consumer-oriented marketers looking to reach the Festival's highly lucrative family market.

For additional information about Festival sponsorship opportunities, please call Scot Bross or Jamison Hannigan at 973-882-5464 or email them at [email protected] or [email protected].

|

Back to index...