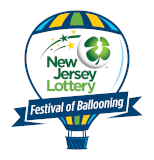 Countdown to Festival Fun

Until the 2020
Quick Chek New Jersey
Festival of Ballooning!
READINGTON, NJ --- For the 22nd consecutive year, QuickChek is returning as title sponsor of the annual New Jersey Festival of Ballooning, the largest summertime hot air balloon and music festival in North America. It is the longest-running sponsorship of any festival in the United States.

This year's Festival launches July 25-26-27, 2014 at Solberg Airport in Readington. It is an international attraction featuring twice a day mass ascensions of 100 balloons from around the world with a major headlining concert series and has been named one of the Top 100 Events in North America six times.

QuickChek, a market leader in food service with an exceptional fresh coffee and fresh food program, has maximized its involvement with the Festival, extending its sponsorship of this three day event into a nine month long partnership. Marketing programs and in-store branded promotions with its vendors drive added foot traffic into company stores, which serve as the Festival's exclusive retail ticket outlet, and create savings opportunities for consumers on food, beverages and Festival tickets, in the months leading up to the Festival.

When the partnership first began, the Festival featured 40 balloons with 40,000 attendees. QuickChek, a privately-held company based in Whitehouse Station, NJ, had 94 retail locations in the Garden State. Today, the Festival features 100 sport and special shaped balloons from around the world and attracts upwards of 165,000 people. QuickChek has also enjoyed successful steady growth, opening new stores each year and expanding into New York State. The convenience store chain now operates 138 retail locations throughout New Jersey and New York's Hudson Valley, including 11 pharmacy stores and 44 locations with fuel.

"The balloon festival is our number one branding event," said QuickChek CEO Dean Durling. "It has proven to be a great way to introduce consumers to our brand over the years, either on site or in the months leading up to the festival in July. As the neighborhood shopping destination close to where you live and work, we enjoy partnering with our vendors to provide consumers with attractive offers in our stores, from exciting dining options to big savings on festival tickets."

"This has been a true partnership from day one. We share the same goals and the same core values," said Festival Executive Producer Howard Freeman. "Each year we look to produce on the greatest event of its kind in the world, which QuickChek allows us to do. In return, they've capitalized on the opportunity to build their brand, introduce new menu items and showcase their award-winning customer service to a huge audience."

Sharing a common belief in being active in the community, the Festival has raised more than $2.3 million for local charities and non-profit organizations since The Festival Group and QuickChek came together in 1993. The event has an economic impact of $42.7 million on the state's travel and tourism and local economies and brings positive recognition to the state through the worldwide media attention it receives.

QuickChek's huge 2,700-square-foot, air conditioned replica store is a favorite stop at the Festival, where attendees can enjoy "Made Fresh For You" oven-toasted subs, premium salads and wraps, breakfast sandwiches, hot and iced coffees, frozen drinks, milkshakes and more. Across the midway, QuickChek's enormous hospitality tent provides families with the opportunity to relax together in between balloon ascensions and headlining concerts.

Tickets at savings up to 43 percent go on sale at all QuickChek locations on Memorial Day. Tickets and additional information, including sponsorship, crafter and vendor opportunities, are also now available at www.balloonfestival.com.

|

Back to index...