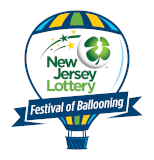 Countdown to Festival Fun

Until the 2020
Quick Chek New Jersey
Festival of Ballooning!
For Immediate Release

HOT AIR BALLOON RIDE AT FESTIVAL A MAGICAL EXPERIENCE

READINGTON, NJ --- Yes, you can go up, up and away in your beautiful balloon.

That's one of the first things people ask about – and is something nearly 1,000 people are expected to do – as the 32nd annual QuickChek New Jersey Festival of Ballooning in Association with PNC Bank gets set to take off July 25-26-27 from Solberg Airport in Readington, NJ.

Whether you are an adventurer or a romantic --- two couples got engaged last year --- you can be in the middle of the action and excitement by taking a magic carpet ride in the sky and float high above the scenic Hunterdon County countryside during one of the festival's five scheduled mass hot air balloon ascensions.

"A hot air balloon ride at the festival is truly an unforgettable experience," said Festival Executive Producer Howard Freeman. "Many people have always wanted to do so and will cross it off their bucket list this year. Others purchase rides to make birthdays, anniversaries, and graduation celebrations even more special. It's also a unique way to propose marriage."

Adding to the experience is to be able to fly during the largest summertime hot air balloon and music festival in North America. Rides take place during the mass ascensions of more than 100 sport and special shaped hot air balloons in the early morning or early evening throughout the festival weekend.

Riders get to experience what Freeman calls the "magic of ballooning" firsthand as their balloon crew first unloads and lays out the envelope on the ground, inflates the envelope with cold air, hooks up the basket and propane burners to heat up the inside of the balloon to get it fully inflated and ready for flight. Then it's time to go onboard and float among the clouds up in the sky.

Early morning rides, taken during the tranquil mass ascensions shortly after sunrise, are $225 per person plus tax; evening rides taken during the mass ascensions just before sunset are $250 per person plus tax; festival general admission must be purchased separately.

For those looking to go up yet remain closer to the ground, tethered balloon rides at the festival are $20 per person. Tethered rides can be purchased at the Balloon Ride Tent adjacent to the Balloon Launch Field and the flight line. All balloon activities are wind and weather permitting.

Reservations are strongly suggested as rides do sell out. Call 1-800-HOT-AIR9 or visit www.balloonfestival.com for details today.

###

MEDIA CONTACT:

Russ Mensch

Mensch & Company, Inc.

Public Relations & Event Marketing

phone: 201-797-2448

email: [email protected]

|

Back to index...