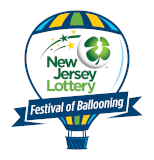 Countdown to Festival Fun

Until the 2020
Quick Chek New Jersey
Festival of Ballooning!
SPONSORSHIP LAUNCHES COMMUNITY EVENTS ACROSS THE STATE

READINGTON, NJ --- The QuickChek New Jersey Festival of Ballooning and PNC Bank will once again bring the magic of ballooning to children and families alike, presenting pre-Festival events throughout the state this spring in addition to July's annual event, the largest summertime hot air balloon and music festival in North America.

The 33rd annual QuickChek New Jersey Festival of Ballooning in Association with PNC Bank takes off July 24-25-26, 2015 from Solberg Airport in Readington, NJ. Named one of the Top 100 Events in North America, the Festival attracts upwards of 165,000 people and worldwide media coverage.

"Our partnership with PNC, which is now in its 13th year, enables us to produce wonderful outreach programs as well as add exciting new elements each year," said Festival Executive Producer Howard Freeman. "We've created promotions and events throughout the years and they are all still going strong. PNC is a great example of how a company maximizes its sponsorship of the Festival to consistently deliver their message."

"Just as every year follows a seasonal pattern, so does our sponsorship of the QuickChek New Jersey Festival of Ballooning," said Joseph Whall, PNC Senior Vice President & Director of Client and Community Relations. "A series of related events we sponsor beginning in March leads up to the final weekend in July. The entries in our school essay contest, the pre-school children who learn about the science of hot air ballooning, a tethered inflation of the PNC Bank American Flag balloon; we are delighted to repeat these year-after-year to a new audience in communities throughout the state."

PNC Bank and the Festival provide up-close-and-personal experiences throughout the year. The PNC Bank American Patriot Essay Contest begins in March and concludes with the winner taking a hot air balloon ride at his or her school in June. The PNC Bank Grow Up Great school readiness program enables pre-school children to explore a cold-inflated balloon in May and June. The nation's Independence Day celebrations are launched in July with the "PNC Salutes America" special shaped hot air balloon, the largest free-flying American flag in the world.

At the Festival, PNC Bank presents one of the main concert headliners, provides attendees with convenient access to ATMs, and offers children's activities in the PNC Bank Mobile Learning Center.

Freeman notes that the Festival offers marketers the opportunity to rise above the clutter in the heavily saturated New York-Philadelphia media market to reach the Festival's highly desirable family audience through innovative marketing programs and signage on 75-foot-tall balloons as they fly during six scheduled mass ascensions.

The Festival creates tailor-made programs to showcase new consumer products and services. A perfect example of this is title sponsor QuickChek building a 2,700 square-foot store complete with its newest menu items on site and demonstrating its award-winning customer service with a huge family hospitality tent. Additional partnerships include the Blue Sky VIP Club, which provides priority viewing along the Balloon Launch Field; the Running with the Balloons 5K race; and the Festival's family-oriented Kids Club.

MEDIA CONTACT:

Public Relations & Event Marketing

|

Back to index...