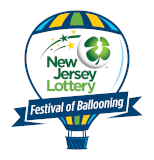 Countdown to Festival Fun

Until the 2020
Quick Chek New Jersey
Festival of Ballooning!
BALLOON FESTIVAL ANNOUNCES DARTH VADER AND YODA BALLOONS
TO LAUNCH STAR WARS DAY

READINGTON, NJ --- "May the Fourth" be with you" balloon festival fans. You do not have to wait until December for the Force to awaken.

The QuickChek New Jersey Festival of Ballooning in Association with PNC Bank has announced that special shaped balloons of Star Wars icons Darth Vader and Yoda will take to the skies at this summer's annual festival, July 24-25-26, at Solberg Airport in Readington.

"Everyone has their dark side, mine happens to be 86-feet-tall," quipped Festival Executive Producer Howard Freeman of the eight-story tall, jet black, 3-dimensional balloon shaped like the head of Darth Vader. "Darth Vader is one of the most recognizable characters in movie history and one of the most popular special shapes in the history of the festival, too."

Approved by Lucasfilm, the villainous Darth Vader hot air balloon was created in 2007 by Benoit and Michel Lambert of Brussels, Belgium to show off their artistic talents as hot air balloonists as well as their love for all things Star Wars. The balloon stands 86 feet tall, is 69 feet wide, 78 feet deep, measures 106,000 cubic feet when fully inflated, and weighs 705 pounds.

Capable of holding two passengers and one pilot – slightly less than an Imperial cruiser or the Millennium Falcon - Darth Vader previously flew over the Hunterdon County countryside in 2007, 2008 and 2012, marking the 30th and 35th anniversaries of one of the most successful movie franchises of all time with box office receipts of more than $2.5 billion.

For a preview of the most widely anticipated movie release of the year, Star Wars: The Force Awakens, due out in December, Freeman has once again reached out to a galaxy far, far away to bring in the 62-foot-tall, bright green Master Yoda balloon.

A new creation from the Lamberts which only has room for the pilot, Master Yoda will be making his festival debut and his first-ever flights on the East coast during the three-day festival in which upwards of 165,000 people are expected to attend.

The 33rd annual QuickChek New Jersey Festival of Ballooning in Association with PNC Bank is the largest summertime hot air balloon and music festival in North America. The festival features the awe-inspiring spectacle of twice a day mass ascensions of more than 100 balloons from around the world and is known for showcasing special shaped balloons.

Freeman noted that a new signature balloon from title sponsor QuickChek stores will soon be unveiled. It will join the Star Wars balloons and returning fan favorites including the PNC Salutes America balloon, at five stories tall it is the largest free-flying American flag in the world; the 110-foot-tall Unique Photo Panda; and the 80-foot-tall Pepsi football.

For tickets and additional information visit www.balloonfestival.com.

###


MEDIA CONTACT:
Russ Mensch
Mensch & Company, Inc.
Public Relations & Event Marketing
201-797-2448
[email protected]



|

Back to index...