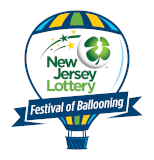 Countdown to Festival Fun

Until the 2020
Quick Chek New Jersey
Festival of Ballooning!
CONTEST: NAME THE BALLOON, WIN A RIDE

READINGTON, NJ --- Known for bringing in awe-inspiring and uniquely shaped hot air balloons, QuickChek is seeking the public's input into naming its new special shaped balloon which will fly at the upcoming QuickChek New Jersey Festival of Ballooning on July 24-25-26.

This year's signature balloon at the 33rd annual festival at Solberg Airport in Readington is a 121-foot-tall brightly colored seahorse, which will take its first ever flights at the event, the largest summertime hot air balloon and music festival in North America.

The seahorse was designed by Luiz Paulo of Brazil. Twelve stories tall, the balloon occupies 105,000 cubic feet when fully inflated. A marine enthusiast, Paulo adjusted some of the dimensions of a real seahorse such as the size of the tail to those required for a hot air balloon to take flight. He chose the red, orange and yellow colors, along with a blue snorkel and mask, to draw attention in contrast against the blue sky.

To enter QuickChek's "Name the Balloon" contest, visit QuickChek on Facebook at https://www.facebook.com/Quick.Chek.GetFresh.GoFast and make your suggestion by May 22, 2015. Five finalists will be announced on May 29 and Facebook fan voting will determine the winner.

The grand prize is a free ride in a hot air balloon at the festival as well as two passes to the VIP pilot party on Friday, July 24 with optimal viewing of the festival's fireworks show.

The QuickChek New Jersey Festival of Ballooning in Association with PNC Bank features more than 100 hot air balloons from around the world and is known for bringing in spectacular special shaped balloons. QuickChek's signature balloons have included a flying lighthouse which paid respects to restore the shore efforts following Hurricane Sandy; a farm which reflected the company's fresh food products; and a soaring American eagle.

"QuickChek and the festival are dedicated to maximizing our attendees' experience and this contest is another great way for the public to be engaged," said Festival Executive Producer Howard Freeman. "We work very hard to bring in new balloons, top flight musical entertainment and attractions, and are proud to launch our newest balloon this summer."

"We encourage everyone to visit QuickChek's Facebook page, make their suggestions and vote for their favorite names, as well as to learn about QuickChek's newest food and beverage offerings," added Freeman.

###

MEDIA CONTACT:
Russ Mensch
Mensch & Company, Inc.
Public Relations & Event Marketing
phone: 201-797-2448
email: [email protected]


|

Back to index...