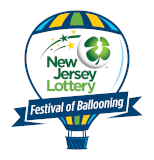 Countdown to Festival Fun

Until the 2020
Quick Chek New Jersey
Festival of Ballooning!
State Recognizes Impact on Tourism

READINGTON, NJ --- For the 24th consecutive year, QuickChek is returning as title sponsor of the annual New Jersey Festival of Ballooning, the largest summertime hot air balloon and music festival in North America.

The Whitehouse Station, NJ fresh convenience market chain's sponsorship is the longest-running sponsorship of any festival in the United States according to sponsorship analysis firm IEG.

This year's QuickChek New Jersey Festival of Ballooning in Association with PNC Bank, an international attraction featuring twice a day mass ascensions of 100 balloons from around the world with a major headlining concert series, launches July 29-30-31, 2016 at Solberg Airport in Readington. A record 175,000 people attended last year's Festival.

"This annual event has an amazing impact on Hunterdon County's tourism industry," said Lt. Governor Kim Guadagno. "It is not surprising that the Festival has been repeatedly acknowledged as a Top 100 Festival in North America by the American Bus Association. I encourage both residents of New Jersey and surrounding areas to attend and experience this showcase event."

QuickChek, a market leader in food service with an exceptional fresh coffee and fresh food program that has been voted the best in America in a national survey, has maximized its sponsorship of this three day event into a nine month long partnership. QuickChek stores serve as the Festival's exclusive retail ticket outlet, creating savings opportunities for consumers on food, beverages and Festival tickets in the months leading up to the Festival.

"The balloon festival is our number one branding event," said QuickChek CEO Dean Durling, whose family-owned company operates 143 locations throughout New Jersey, the Hudson Valley and Long Island. "It has proven to be a highly effective way to introduce consumers to our brand and deliver our message of providing restaurant-quality food and the best cup of coffee on the market at a great value, as well as our outstanding customer service. It truly is a showcase event for us."

Last summer the company successfully launched its new in-store Q Café on a large scale, offering nearly 40 varieties of handcrafted hot and iced cold drinks; fresh-brewed cappuccinos, lattes and espressos; blended-to-order real fruit smoothies; and decadent frozen chocolate drinks, to Festival attendees.

The Q Café paired well with QuickChek's huge on-site 2,700-square-foot, air conditioned replica store, a favorite stop where Festival attendees can enjoy custom made oven-toasted subs, premium salads and wraps, breakfast sandwiches, hot and iced coffees, and frozen drinks. The company also has an enormous hospitality tent that provides families with the opportunity to relax together in between balloon ascensions and headlining concerts.

"QuickChek is an excellent example of how a company continues to connect with its customers, attract new ones, and integrate all facets of its corporate mission," said Festival Executive Producer Howard Freeman. "We share many of the same beliefs, including a sense of serving our communities, which have made this a true partnership from the very beginning. Together we have been able to produce the greatest event of its kind in the world year after year."

The Festival has an economic impact of $42.7 million on the state's travel and tourism and local economies and brings positive recognition to the state through the worldwide media attention it receives. The Festival has raised more than $2.55 million for local charities, non-profit organizations and children's hospitals since The Festival Group and QuickChek came together in 1993.

To learn more about this year's Festival, including ticket information, sponsorship, crafter and vendor opportunities, please visit www.balloonfestival.com.

###

MEDIA CONTACT:

Russ Mensch

Mensch & Company, Inc.

Public Relations & Event Marketing

phone: 201-797-2448

|

Back to index...