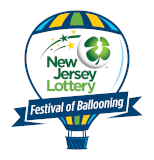 Countdown to Festival Fun

Until the 2020
Quick Chek New Jersey
Festival of Ballooning!
READINGTON, NJ --- The QuickChek New Jersey Festival of Ballooning in Association with PNC Bank has, without a doubt, the hottest act on the planet.

With a jolt seven times the force of gravity, Brian Miser, aka "The Human Fuse," will shoot himself through the air at nearly 65 miles per hour and arc more than 100 feet across the Festival grounds at Solberg Airport during the July 29-30-31 Festival weekend. While on fire.

Yes, on fire.

For this certified daredevil (as opposed to the regular kind), a mere cannon will not do. Miser launches himself from a 24-foot-long, self-made crossbow.

"The thing with flying is that you're moving so quickly that the flames are behind you, but when you land they come up over you," said Miser. "It's the most exhilarating thing."

With more than 7,000 launches in a 30-year-plus career and appearances on national TV including Conan O'Brien and David Letterman, Miser still gets nervous. After all, defying the laws of physics and gravity almost every day requires pinpoint accuracy.

"You're pretty sure you know where you're going to land," said the 51 year old Miser. "Sometimes you worry you'll be a little short or a foot over. But it's hard to beat flying through the air, no strings attached. To me, it's the ultimate."

Hailing from Peru, Indiana – known as the "Circus Capital of the World" because it served as the winter home for many circus troupes including Ringling Bros. and Barnum & Bailey in the early 1900s – Miser started performing in the local amateur circus. He later joined Ringling Bros. as a flying trapeze artist and soon had his own solo act. But he had a calling to be a human cannonball. With no colleague to turn to for instruction and limited knowledge of the operational mechanisms of a cannon, he began to tinker in his workshop and fabricated a cannon by himself.

Miser met his future wife, Tina, while volunteering at Peru's annual summer circus festival in 1999. He was a rigger in ring one and Tina a rigger in ring three. Soon after, Brian talked her into becoming both his wife and his trigger woman – after all, he also needed someone to shoot him out of the cannon.

Miser made his blazing debut as a human cannonball in the 133rd edition of Ringling Bros. and Barnum & Bailey as "Bailey's Comet" in 2004 by doing a never-before-seen act --- lighting himself on fire. It wasn't long before Tina joined him in forming what became the only double-human cannonball couple in the world.

Brian later ignited his imagination and generated an act even more electrifying than before. He converted a human-sized cannon into a human-sized crossbow, overcoming numerous challenges involved including the calibrations and modifications needed to include a sled and installing a bow behind a cannon to launch him from an open mechanism. Of course he would still light himself on fire.

His new career as The Human Fuse was launched.

"Jennifer 'The Cannon Lady' Smith has been our most popular attraction and now we have the Human Fuse taking this to a whole new level," said Festival Executive Producer Howard Freeman.

Miser will perform multiple shows each day in the Jeep Family Fun Center throughout the Festival. His Sunday morning flight will be a little different than normal: instead of the Festival shooting a pistol to start its "Advil® Running with the Balloons" 5K Race, they'll shoot Miser from his crossbow.

###

MEDIA CONTACT:

Russ Mensch

Mensch & Company, Inc.

Public Relations & Event Marketing

phone: 201-797-2448

|

Back to index...