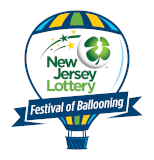 Countdown to Festival Fun

Until the 2020
Quick Chek New Jersey
Festival of Ballooning!
ROCK LEGENDS PAT BENATAR & NEIL GIRALDO

HEADLINE QUICKCHEK NEW JERSEY FESTIVAL OF BALLOONING

READINGTON, NJ --- Pat Benatar and Neil Giraldo, one of the most successful partnerships in rock & roll history, will headline the 35th annual QuickChek New Jersey Festival of Ballooning in Association with PNC Bank on Saturday, July 29, 2017.

Presented by the New Jersey Lottery, the trailblazing couple will perform at 8:00 p.m. following that evening's scheduled mass hot air balloon ascension and in conjunction with the Festival's nighttime hot air balloon glow as the largest summertime hot air balloon and music festival in North America launches its 35th anniversary celebration. Popular New Jersey Lottery hostess Erica Young will sing the national anthem prior to the balloon mass ascension.

Tickets for the concert at Solberg Airport in Readington, NJ go on sale this Friday, March 3 at 10:00 a.m. at www.balloonfestival.com. The New Jersey Lottery will provide free lottery tickets to the first 60 people who purchase VIP tickets to the concert.

A four-time Grammy Award winner, Pat Benatar has sold more than 26 million albums and charted 19 Top 40 singles including "Hit Me with Your Best Shot," "Love is a Battlefield," "Heartbreaker," "We Belong," and "Invincible."

She is a classically-trained mezzo-soprano, born in Brooklyn and raised in Lindenhurst, Long Island, who has always been a rule-breaker, a bold and distinctive artist both on stage on record.

The world was first introduced to Benatar and Giraldo's enduring partnership and rock &'roll love affair with her 1979 platinum-selling debut album, In The Heat Of The Night, which included the classic "Heartbreaker," as well as the Giraldo-penned hit, "We Live For Love."

The following year, Benatar and Giraldo cemented their place in music history forever, by being the first female and first guitarist, respectively, to ever appear on MTV, with the video for "You Better Run," taken from 1980's Grammy winning album Crimes of Passion.

Benatar went on to win an unprecedented four consecutive Grammy Awards for Best Rock Female Vocal Performance from 1980to 1983.

During the early days of MTV, she was one of the most heavily played artists on the popular music channel with two multi-platinum albums, five platinum albums, and three gold albums, forging a path for other female rock stars around the world.

Acknowledged as the leading female rock vocalist of the 1980s, Benatar and musician-producer-arranger-songwriter Giraldo are a husband-and-wife team that remains an entertainment powerhouse.

"We are thrilled to have the legendary duo of Pat Benatar and Neil Giraldo hit us with their best shot and rock the biggest party of the summer," said Festival Executive Producer Howard Freeman. "We're proud to continue to provide our Festival-goers with the biggest names in music and we can't wait for Pat to rock our biggest concert series ever."

"The New Jersey Lottery provides residents with opportunities to soar through tuition aid grants and scholarships, school nutrition programs, funding to institutions of higher learning, disabled veterans homes, and so many other good causes, with lottery generated revenue. The Lottery is pleased to support the QuickChek New Jersey Festival of Ballooning bringing people to new and greater heights as Anything Can Happen in Jersey," said the New Jersey Lottery's Executive Director, Carole Hedinger.

###

Pat Benatar & Neil Giraldo

35th annual QuickChek New Jersey Festival of Ballooning in Association with PNC Bank

Solberg Airport, 39 Thor Solberg Road, Readington, NJ

Saturday, July 29, 2017, 8:00 p.m.

$20-$125

###

MEDIA CONTACT:

Russ Mensch

Mensch & Company, Inc.

Public Relations & Event Marketing

phone: 201-797-2448

|

Back to index...