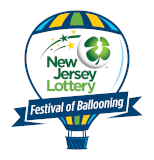 Countdown to Festival Fun

Until the 2020
Quick Chek New Jersey
Festival of Ballooning!
READINGTON, NJ --- There are all types of adventurous races, but if you can't run with bulls you can run with the balloons.

The 8th annual Advil® Running with the Balloons 5K provides a unique setting, racing through the QuickChek New Jersey Festival of Ballooning in Association with PNC Bank, the largest summertime hot air balloon and music festival in North America.

The July 30 race combines the elements of cross-country with a traditional road race. The flat, fast, low-impact USATF-NJ certified course features a mix of surfaces including grass, pavement, gravel and dirt road.

With 100 hot air balloons overhead, some of which are as tall as 11 story buildings and shaped like bumblebees, a lion, a panda bear, a barn, an anniversary cake and the American Flag.

USA Today named it one of the 10 great 5K runs to build a vacation around for its spectacular scenery.

The Active Times named it one of the Top 10 5K races in the United States, citing it for its competitive field, fast course, scenic setting, charitable support and providing the unique experience of racing during one of the Festival's early morning mass hot air balloon ascensions.

"We've done a great deal of research and as far as we know no one's ever been gored by a hot air balloon," quipped Festival Executive Producer Howard Freeman, referencing the famous running with the bulls that takes place three weeks earlier in Pamplona, Spain.

Runners start off on a grass field near the Festival's Family Fun Center and race past the balloon launch field while Sunday morning's mass hot air balloon ascension takes place. The course takes them along different surfaces around Solberg Airport in Readington, NJ and finishes in the heart of the Festival.

The top male and female winners each receive a free ride in a balloon.

"We strive to make our festival experience a memorable one and this includes our 5K," said Freeman. "The layout of the course is unique, you're running on multiple surfaces around and through the Festival while 100 balloons are in the sky above you. This is a race unlike any other."

Right from the gun. In the past the Festival has shot a female human cannonball out of a 27-foot-long cannon or started the race when runners heard the splash from an 80-foot high dive. This year aerialist Alexandra Nock will float over the starting line from underneath a giant helium balloon and unfurl a banner to begin this year's race.

Freeman noted that Advil is a natural partner for the race as well as all of the Festival's Health & Wellness activities on Sunday, which include sunrise yoga and Nature's Path jazzercise workouts in the Festival's Corporate Hospitality Village. Propel Fitness Water and official TV partner SNY are additional partners in launching this growing event on the area's racing calendar.

All runners' entries include a full-day pass into the Festival, which includes Festival admission, free parking, lawn seating to Sunday afternoon's Plain White T's concert, a t-shirt, and access to both the morning and evening scheduled mass hot air balloon ascensions. The top three overall male and female finishes receive non-cash prizes. Race time is 8:00 a.m.

In keeping with the Festival's belief in "doing well by doing good," a portion of the proceeds benefit the Center for Educational Advancement (CEA) for people with special needs in Flemington and the Children's Miracle Network.

The 35th annual QuickChek New Jersey Festival of Ballooning in Association with PNC Bank, July 28-29-30, features twice a day mass ascensions of more than 100 sport and special shaped hot air balloons from around the world, live concerts, and 39 hours of family entertainment and attractions. Upwards of 165,000 people are expected.

###

MEDIA CONTACT:

Russ Mensch

Mensch & Company, Inc.

Public Relations & Event Marketing

phone: 201-797-2448

|

Back to index...