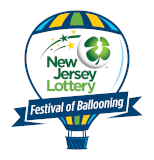 Countdown to Festival Fun

Until the 2020
Quick Chek New Jersey
Festival of Ballooning!
AEROSPHERE AERIAL BALLOON SHOW TO GRACE THE FESTIVAL

READINGTON, NJ --- The dazzling aerial performances at the upcoming QuickChek New Jersey Festival of Ballooning in Association with PNC Bank won't be limited to the balloons up in the sky.

In fact, it's the action that's going to take place underneath a balloon that's sure to attract a great deal of attention.

John Nock and his aerialist wife, Alexandra, present the AeroSphere Aerial Balloon Show in which Alexandra will gracefully perform acrobatic maneuvers over the festival crowd while floating underneath a giant helium balloon.

Alexandra performs while suspended from giant helium balloons, whirling and twirling through the air above the crowd with the unique ability to fly right down into the crowd, creating a unique interactive performance that is sure to leave a lasting impression in the Chrysler Pacifica Family Fun Center during the July 28-29-30 festival at Solberg Airport in Readington, NJ.

The AeroSphere Aerial Balloon Show wowed millions of viewers on NBC's hit show America's Got Talent in which NBC called the Sarasota, FL-based act the only act of its kind in the United States.

Hailing from seven generations of a legendary entertainment dynasty, John and Alexandra Nock created the soaring beauty of aerial performance, combining aviation, science, and aerial acrobatic artistry to create breathtaking overhead spectacles.

In the early 1990s John was inspired by an 1880's postcard featuring his great-grandmother performing perilous acts while hanging from a hot air balloon, The Nocks set out to create a revolutionary new aerial act, combining flight technology, grace and daring into an entrancing encounter experienced so far by millions of people of all ages and cultures worldwide.

The 35th annual QuickChek New Jersey Festival of Ballooning in Association with PNC Bank offers 39 hours of affordable family entertainment including twice a day mass ascensions of 100 balloons; a fireworks display; a nighttime balloon glow where balloons are inflated and lit up while tethered on the ground; children's amusement rides and entertainment; exciting interactive exhibits and hundreds of crafters and food vendors.

In addition to her shows throughout the weekend, Alexandra will thrill festival-goers on Sunday morning July 30 as she is suspended from a helium balloon over the starting line and unfurls a banner to begin this year's Advil Running with the Balloons 5K race.

To learn more or to purchase tickets, visit www.balloonfestival.com.

###

MEDIA CONTACT:

Russ Mensch

Mensch & Company, Inc.

Public Relations & Event Marketing

phone: 201-797-2448

|

Back to index...