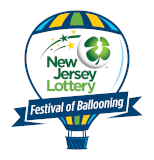 Countdown to Festival Fun

Until the 2020
Quick Chek New Jersey
Festival of Ballooning!
READINGTON, NJ --- By all accounts, David Smith Jr. is a big shot.

Known as "The Bullet," David is heir to the throne of being the world's most accomplished human cannonball, carrying on a great family tradition of being the highest and farthest flying cannonball of all time. From breaking the world distance record to blasting over incredible obstacles such as Ferris wheels, concert stages, even part of the Grand Canyon.

Next up: a world-record attempt by soaring over a hot air balloon when he performs at the 36th annual QuickChek New Jersey Festival of Ballooning in Association with PNC Bank. The three-day Festival, July 27-28-29, 2018, is the largest summertime hot air balloon and music festival in North America.

"Before he even climbs down the barrel of his 34-foot-long cannon, David has a big net to fill," said Festival Executive Producer Howard Freeman. "His sister, Jennifer 'The Cannon Lady' Smith, has been the most popular attraction we've ever had. He has his sights set high as he'll try to top her and launch himself over a balloon."

He'll also serve as the starting gun for this year's Running with the Balloons 5K race on Sunday, July 29. Hopefully the runners can keep up with him; he goes from 0 to 60 m.p.h. in less than a second.

David's most recent Guinness World Record came at Raymond James Stadium in Tampa in March when he traveled 195 feet in the air, breaking his previous record of 193 feet 8 inches and that of his father (184'10).

Yes, this family business is a blast. David Smith Sr. is a renowned human cannonball. He and his wife raised seven children and each one has been fired from a cannon. For David Jr., his career began out of necessity.

"One day my dad called and said he hurt his back and needed some recovery time," said the younger Smith. "He needed me to take his place and perform in Madison, Wisconsin, in two days. They gave me a practice shot in the morning then I performed a live show at night. I was 19 years old, terrified, nervous, and very excited."

Over the next six months Junior continued shooting under the guidance of his father, a lifelong human cannonball whose worldwide performances included spending an entire summer being shot down Main Street USA at Disneyland.

The two Smiths traveled the country, performing in a different city most every day. Each day and performance, father passed something on to son. The cannon shots started to be a little farther than the day before. As David's confidence and abilities grew, so did the size of the cannonball shots and the stages for these appearances, from "The Tonight Show with Jay Leno" to The Today Show, and NASCAR, where he fired before 144,000 people at the Coca-Cola 500.

In 1998 the two flying Smiths blasted their way into the Guinness Book of World Records on prime time television. Then in 2011 David Jr. set two new Guinness World Records, soaring 193 feet 8 inches in Italy to establish a then new distance record followed by soaring 77 feet 6 inches high at Charlotte Motor Speedway.

At this year's balloon festival, the sky will be full of all sorts of colorful objects.

###

MEDIA CONTACT:

Russ Mensch

Mensch & Company, Inc.

Public Relations & Event Marketing

phone: 201-797-2448

|

Back to index...