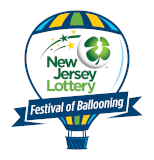 Countdown to Festival Fun

Until the 2020
Quick Chek New Jersey
Festival of Ballooning!
READINGTON, NJ --- For the 18th consecutive year, the QuickChek New Jersey Festival of Ballooning and PNC Bank will bring the magic of ballooning to children and families alike throughout the state.

Events in the months leading up to the annual summer Festival introduce the science of ballooning to pre-school children; provide students in elementary, middle and high school the chance to express their patriotism through the PNC American Patriot Essay Contest; and give hundreds of thousands of people the chance to see the world's largest free-flying American Flag through a special televised event on Flag Day.

It all culminates with the 37th annual QuickChek New Jersey Festival of Ballooning in Association with PNC Bank, the largest summertime hot air balloon and music festival in North America, which will take place July 26-27-28, 2019 at Solberg Airport in Readington, NJ.

"We are thrilled to continue to partner with PNC in bringing the magic of ballooning to people of all ages in communities across the state and to provide truly memorable experiences at the Festival of Ballooning," said Festival Executive Producer Howard Freeman. "We enjoy creating exciting promotions and adding new elements that enable PNC to deliver their message and connect with new and existing customers in a fun atmosphere."

"We take great pride in utilizing these curated, pre-festival events, to extend the marketing reach of a 3-day festival into a full-blown, 6-month marketing and PR activation for our partner, PNC," added Freeman.

"Summer in New Jersey shines brightest at the QuickChek New Jersey Festival of Ballooning in Association with PNC Bank," said Joe Whall, PNC Senior Vice President and Director of Client & Community Relations. "We have been proud to maintain our sponsorship since 2002, so we know what it delivers year-after-year: an upbeat atmosphere of fun and food, great music and the glorious sight of hot-air balloons dancing magically in the air."

To help introduce children to PNC Bank and encourage their love of country, the PNC Bank "American Patriot Essay Contest" was created in year two of the sponsorship. Each year, thousands of school children in grades 2-12 across the state write about "What the American Flag Means to Me" with the winner receiving a ride in a hot air balloon at his or her school in June and then a once in a lifetime experience of flying in one of 100 balloons at the Festival in July.

PNC Bank's "Grow Up Great" school readiness program has grown to be a valued resource in providing hundreds of pre-school children with the opportunity to learn about the world around them by exploring a cold-inflated, 75-foot-tall balloon in person.

"We are proud to celebrate the 15th anniversary of PNC Grow Up Great, a $350 million, multi-year bilingual initiative to help prepare children from birth to age 5 for success in school and life. To date, the program has served over 4 million children around the country," said Whall.

The Festival and PNC Bank will once again launch the nation's Flag Day celebrations on June 14 by raising the world's largest free-flying American Flag --- a 53-foot-tall, 78-foot-wide, 29-foot-deep special shaped hot air balloon that is the size of a 5-story building.

"The American flag balloon was created right after 9/11 and branded the 'PNC Salutes America' balloon," said Freeman. "We inflated it for the first time on Flag Day 2002 and it was tremendously well received. We then paired it with the QuickChek American Eagle balloon at the Festival and each time the Eagle and the Flag took flight to 'God Bless America,' tens of thousands of people stood and applauded."

This year PNC Bank will present ABBA The Concert to launch the Festival's live concert series, as well as offer children's interactive activities in the PNC Grow Up Great Mobile Learning Center. It will also provide Festival attendees with convenient access to on-site ATMs as they enjoy balloon ascensions, concerts, family entertainment and attractions.

To learn how the Festival can take your marketing program to new heights or to purchase tickets to this year's Festival, visit

www.balloonfestival.com

.

###

MEDIA CONTACT:

Russ Mensch

Mensch & Company, Inc.

Public Relations & Event Marketing

phone: 201-797-2448

|

Back to index...