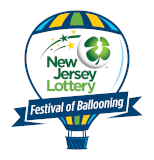 Countdown to Festival Fun

Until the 2020
Quick Chek New Jersey
Festival of Ballooning!
Take one OreoTM cookie. Dip it in sweet funnel cake batter. Fry it until it's golden brown. Then top it with powdered sugar. This ultimate sugar rush will be one of the many new treats and dishes offered at the Festival this year by our new food concessionaire, Dellano's Foodservice of Long Valley, NJ.

Still craving more sweets? Dellano's signature dish for the Festival's 25th Anniversary is the Hot Air Balloon Funnel Cake. An experience not to be passed up, this light and tasty funnel cake will be shaped like a hot air balloon, deep-fried to a golden brown and topped with strawberry, chocolate or blueberry sauces.

The main menu features true Garden State outdoor staples such as hot and sweet sausage & peppers, mouth-watering burgers, hot dogs, cheesesteaks, calzones, zeppoles, and of course, Jersey's famous pork roll, egg and cheese. Fresh-squeezed lemonade and Italian ices, too.

"We're excited to have a concessionaire who truly understands what people attending a New Jersey outdoor event expect," said Howard Freeman, the Festival's Executive Producer and Official Taste Tester. "The Festival was created as a showcase for New Jersey and with Dellano's being Jersey based, they know this market's tastes."

Dellano's Foodservice started in Newark more than 70 years ago and their tradition of serving delicious festival food has been passed down through three generations. They are known throughout the tri-state area for providing catering and food service using top-grade products to pool concessions, parks, carnivals, fairs and air shows.

"We look forward to being a part of the Quick Chek New Jersey Festival of Ballooning's 25th Anniversary," said Fred Dellano, owner of Dellano's Foodservice. "We take great pride in providing quality and service each and every day. Festival goers can expect really good food in an unsurpassed environment."

|

Back to index...